Saturday, July 31st, 2010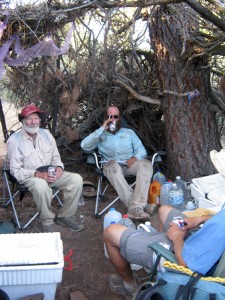 "Breakfast at Cache 22!" was our get-up motto today! It was already warm at 5:30am — a hot day was coming. We passed a bunch of the guys just getting up from their camp at the old fire lookout. Some of them passed us a little while later, hiking on a tear, also eager for the cache! By the time we got there, only 3 beers were left. We each got one. Beer (warm) is actually a nice breakfast drink to have with granola, which is what we did.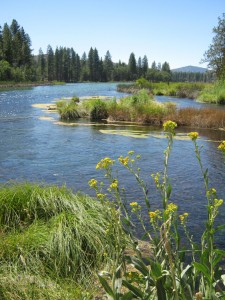 Many others soon arrived, both NOBO and SOBO, till there was quite a gathering. One of the SOBO's said she was originally thruhiking as a NOBO, but got bored and lonely.  Then she thought, "Wait a minute!  If I switch and hike SOBO, I'll be meeting all kinds of people!"  So that's what she did, and said she's having a blast.  All of us took turns reading the register at the Cache, and adding our own entries.
But Bill and I didn't linger too long– we're hoping to reach Burney Falls today, and that would be almost 30 miles, so after breakfast we headed  back to the trail.  Hiking in the relatively cool morning is very pleasant, and the views continued to be spectacular–sometimes the trail goes right to the edge of the Rim, and it makes for very dramatic dropoffs! I was pleased to see also that in this section, the wildflowers are still blooming, especially Indian Paintbrush.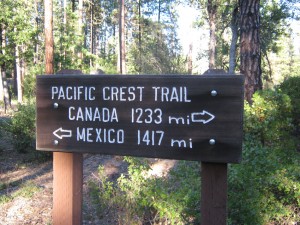 Eventually the PCT "comes in for a landing" back down in the lava beds of the valley below. The lava still looks fresh– no lichen on it or signs of wear. Amazing! It had turned into a very warm day, and as I remembered, the trail became rockier and rockier, till it became totally ridiculously rocky.  In 2005, Bill said "Phooey on this!" and went over to walk on the road, which parallels the trail.  Me, I was so worried about missing the spot where the trail crosses the road, that I stayed with the trail, and oh man, did my feet hurt as a result!  And I need not have worried about missing the crossing–it's well-marked with footprints painted on the pavement!  So THIS TIME, I joined Bill, and walked the road to save my feet from "rock abuse." 
While we were happily hiking along the road shoulder, a little pickup truck pulled over and the lady driver leaned out the window.  "Hi!" she said.  "Are you hiking the PCT?"  "Yup!"  "Are you picking up a box in Burney?  I'm the postmistress, and I can give you a ride there right now and you can get your box."  Well, we weren't going to Burney, but we thought that was really sweet of her to offer to help! 
Near where the PCT finally crossed the road, there was a whole group of very hot, sweaty hikers in the skimpy shade of a small tree.  Everybody had their shoes off and were nursing sore feet.  They were very surprised to see us.  "How'd you get here so fast?"  they demanded.  "We walked the road instead of the trail," I told them.  "Cheaters!!" they groaned.  "Uh, uh, not cheaters!"  I said.  "We did the whole PCT in 2005, and figured out that it isn't worth it to kill your feet staying on the trail you just did."  Then Bill and I walked a bit farther till we could find some more shade, and stopped for lunch.
At this point, the trail is no longer rocky, but nice and flat and dirt, and it goes through meadows and forests, past the "retro" PG & E building, and past the long narrow fish hatchery pools.  We were headed for the hatchery picnic area to get water and take a short break.  The only water available, as it turned out, was in the bathroom, from a faucet, so putting water in the platypuses involved getting one cupful of water at a time from the faucet, then pouring it into the "platy."  Once that was done, I washed and splashed MYSELF with water, trying to cool off! If we'd been allowed to hop in the tanks with the fish, I think we all would have done it!  A whole bunch of us hikers were sitting in the shade at a picnic table, sharing our snacks and talking about the trail.
Then we walked on around beautiful blue Baum Lake and into the forest again; the PCT did its usual "wander all over the scenery" route instead of going straight for Burney Falls.  It was  just after 7:00pm when we reached the State Park store, which was due to close for the day at 8:00pm.  Yikes!  It was scramble time, to get everything done!  A lot of hikers were sitting around sorting their resupplies.  Some distance away was ANOTHER group of hikers.  It turned out that the store had a "no open alcohol containers near the store" policy.  So the two hiker groups were the alcoholics and the non-alcoholics, sort of!  We stayed with the non-alcoholics, which included the Israelis.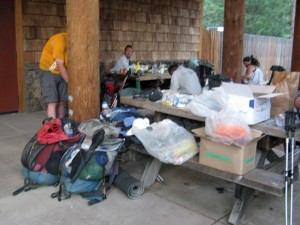 I hurried into the store to get our resupply box, go shopping, and get some ice cream!  Meanwhile, Bill went off to take a shower in the campground.  Back with the hikers on the tables outside, we all started a "who wants this?" trading session.  Other hikers kept arriving, all anxious to get THEIR boxes before the store closed.  The "closest call" (5 minutes before 8 pm) guy literally RAN into the store to get his stuff! 
By the time we'd eaten supper and reloaded our packs, the sun was going down.  I'd hoped for a shower, and asked Bill to guide me to the shower buildings.  He did–sort of.  It took him awhile to find them, and by that time I said, "It's going to be dark soon.  There's not enough time to take a shower."  So I just washed my very dirty feet and we headed out, hoping to have enough light to get back to the trail and find a place to camp.  No such luck!  It got so dark, so fast, that we could not find our way.  So we found a flat piece of ground among some trees and cowboy camped there.
Walk with Aragorn to Isengard: Reach trampled Orc camp in Rohan