Friday, April 30th, 2010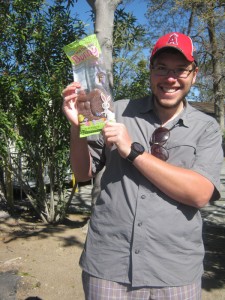 Since we don't have to check out until noon, we have been very leisurely this morning. We made and drank up all the coffee that came with the room, (plus turning some of it into "redneck mochas" by adding hot chocolate powder.) We also ate some instant oatmeal that we got from the hiker box.  By the way, the rooms here at Warner Springs were built of adobe in the 1800's!  They are very comfortable, and furnished "ranch style."   The famous Kit Carson once stayed here! 
Then we moseyed over to the store, and there were three hikers going through their resupply boxes. One young guy was astounded to find that his mom (who had mailed the box) had added a solid chocolate 1 pound bunny. "This is more than I can possibly eat" he groaned, "here, everybody— have a piece." So we all broke off pieces of bunny, and stood around eating and talking. "What's your name?" was asked of each, and someone pointed at the guy with the bunny remnants and said, "Got it! You are Chocolate Bunny!" So we all chimed in, "Chocolate Bunny! Chocolate Bunny!" The poor guy got so embarrassed and pleaded, "No, no! Please don't name me that!" But it was too late.
Note from Alexa: I have a feeling his mum will become famous for that stunt. This is an excellent example of how people end up with their trail names.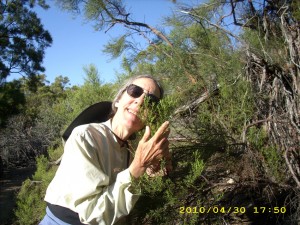 Our plan for the rest of today was to go on a walkabout to explore all the facilities of this resort (which are considerable) eat some odds and ends for lunch, hang out at the pool with the hikers, have dinner and then head out, back to the PCT. Our packs weigh a ton— 7 days of food (includes a "cushion" for the difficult Desert Divide snow) plus water for 27 miles of hiking. But the weather is beautiful again— clear, cool and best of all, CALM!   The wind has stopped!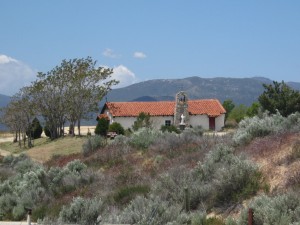 However, after another soak in the hot pool, Bill decided not to leave Warner Springs after dinner as planned, but after lunch. So I ran around taking pictures before we had to go. Many buildings here are from the 1830s, and are really truly adobe and still in use, including the church.   When we went to the mini-mart to grab an ice cream on our way back to the trail, there was Warner Springs Monty, and he offered us a ride  to the PCT in his truck!  Monty plans to start his own 2010 thruhike in a couple of weeks.  Right now he is still troubled by plantar fasciitis in one foot.
So on a lovely afternoon, we were back on the PCT, enjoying  Southern California at its best— beautiful, dramatic mountains studded with huge boulders, and creeks that go singing and cascading down narrow rocky canyons lined with huge trees, long grass and wildflowers peeking out from under every bush.  The trail itself is very well-maintained,  sandy but firm, and fun to walk on.  The guidebook warned of ticks–hopefully we won't pick up any!!   And for the benefit of non-Californian hikers, a bright pink sign by the trail pointed out which plants were poison oak.  Several hikers commented that they were very pleased with that information!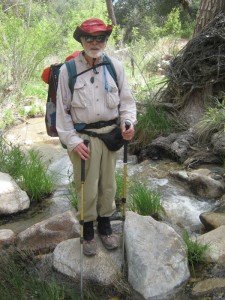 We zigzagged up Agua Caliente Creek, crossing it several times. Then we switchbacked up to rocky, bouldery slopes with stunning views of the Warner Valley and Lake Henshaw.  By 5:00 we'd reached the trail to Lost Valley Springs.   It was a big flat place and a large thruhiker encampment was  busily being set up. We were amazed that people would stop so early, but there they were, setting up tents, cooking dinner, etc.  With all the tents and side trails, we wondered where the PCT went.  One of the hikers grinned wickedly and said, "You should know by now how to tell which one is the PCT— it's the trail that goes up!" Sure enough, it was!
 We put in several more 'up' miles through an area that in 2005 had just been devastated by fire. Much is regrowing— what a difference!  Around 6 pm, we stopped for supper  (cold burritos) at a comfortable, cozy bend in the trail.   It was one of those "perfect trail moments"–good food, not windy, not too hot or cold.  On we went for several more miles after that,  continuing to ooh and aah over the awesome views.  But 7:00 came, and we had a hard time finding a flat, clear, non-charcoaly campsite.  Finally I spotted one down below the trail, with bushes to block the wind.  It was 40 degrees and getting colder, but we happily set up a cowboy camp under clear skies!
This afternoon's hike was SO "classic Southern California" at its very best.  Days like this on the PCT are pure joy, and no challenge!  We went to sleep very contented.
Walk to Rivendell: Boundary of Cardolan