Saturday, June 26th, 2010
All the dramatic clouds of yesterday evening must have blown away during the night–we woke up to clear skies and a very pleasant morning.   We hoisted our still horribly heavy packs and headed for Diaz Creek— we needed water.  Along the way we got a good laugh out of a "sign" that was written in marker pen on a cow skull by the trail.  But we were so distracted with admiring the scenery and spotting "old friend" landmarks from our day hikes in the Cottonwood Pass area, that we missed the unmarked trail to the creek. Oh well— we decided to ration water and go for Chicken Spring Lake.
It was still quite a few miles to the lake, and the PCT of course wanders all over the place, with lots of uphills.  I am still not back to full strength since my round of giardia/whatever, and that means I did a lot of huffing and puffing on those uphills, and could not hike as fast as usual.  Snow on the trail was never a problem, but we noticed plenty on the mountains around, including a lot of snow cornices.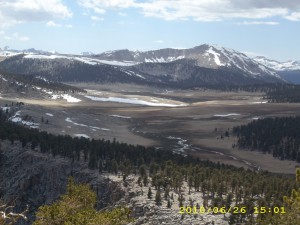 We reached Cottonwood Pass around noontime, and I was totally wiped out.  A couple of very friendly older guys were there, and they kindly took a picture of Bill and I together.  Then one more mile of climbing took us to Chicken Spring Lake, where both Bill and I just plain collapsed for awhile till I got myself together enough to make us some freezedried beef stew for lunch.  The plants at the lake were just barely starting to show buds, and there were a few snow patches. 
After a good rest, we started off again, saying, "Now we REALLY are going into the HIGH Sierras!"  Sure enough, it wasn't long till the trail was totally buried under a snow cornice, but we managed to scramble over it without a problem.  The views of course became more and more awesome–high, snowy mountains, meadows far below, big puffy clouds.  The long rest stop for lunch plus having a hot meal had made both Bill and I feel a lot better, so we were really enjoying ourselves.   We marched happily along the miles of downhill toward Rock Creek, and just before we reached it, there was a note tacked to a post, inviting the hikers over to the summer ranger's house for free food.  Free food?  That is truly a siren call for any hungry thruhiker!
So we followed the faint path off through the woods, across a little creek, and finally came to the totally cute little ranger cabin.  The ranger ( a young woman) was there, with her husband, her little boy and several other friends.  The "free food" turned out to be an almost empty hiker box.  Oh well! I asked if we could see inside the cabin, and the ranger said "Sure!" so I went in and had a look.  It's very cozy, but I was surprised to see that there was nowhere to sleep.  The ranger explained that they never sleep in the cabin unless it's raining, but camp outside in a tent.  That seemed odd to me, but I guess they must have their reasons??   Anyway, back we went through the woods to the PCT.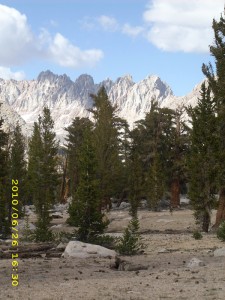 Back ontrail, and headed for Rock Creek, we met another ranger who said the snow line is at 11,500 feet and rising daily!  That was good news–it means we only have to deal with snow when going over the passes.  But shortly afterwards, came a discouraging development— we met a sad young thruhiker couple who were heading south after turning back at Forester Pass. The wife said Forester was totally terrifying and she just could not make it to the top.  So they were turning back, planning to go to Horseshoe Meadows, where the wife could go to town and wait till her husband had finished doing all the scary high passes.  Then she would rejoin him.  This bad new really worried me.   If an obviously young, strong woman could not make it over Forester, what about me?  All I could do was say, "Well, I will do my best." (And pray a lot!)
At around 7 pm, we had reached Rock Creek, which had a campsite with bearbox.  There were only a few mosquitoes, so we made a nice comfortable cowboy camp with snowy mountains all around.   Tomorrow….we tackle Forester Pass.
Walk to Lórien: Redhorn pass of Caradhras blocked by snow