Wednesday, June 23rd, 2010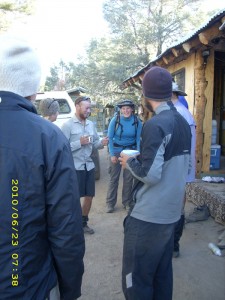 We should have rigged the tarp last night, because when we woke up, our sleeping bags and gear were covered with frost, and my drinking tube had frozen. Welcome to the Sierras!  But we were thinking "Hot breakfast!"  and wasted no time heading for Kennedy Meadows.
Not far from the store, a hiker hailed us from a motley collection of trailers down below the road. "Ho! How 'bout some coffee?"  We wasted no time on coming down the little embankment to where he was standing.  And that's how we arrived at Tom's Place, which is now an important part of the Kennedy Meadows "vortex."   It turned out that the Kennedy Meadows "chuckwagon" is closed on Wednesdays, but Tom, who lives just down the road with his collection of trailers, has stepped in to fill the gap, and does a great job of feeding the  hungry hikers. And there were hordes of them— all scarfing up Tom's great coffee, and later, his equally awesome pancakes.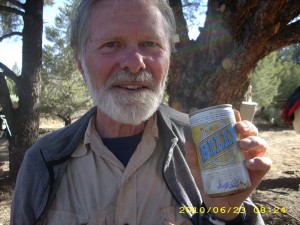 Tom told us we can sleep in one of his trailers tonight, if we want, so we picked out a really cute little one and left our packs there before going to the store to sign up for laundry and showers so we can get clean. I did learn one thing, though.  When it's primo thruhiker season at Kennedy Meadows (which it is, right now!), you need to get yourself signed up on the laundry list ASAP!  There were already so many names ahead of us that I almost despaired of whether we'd be able to do our laundry today or not.  As it turned out, we did get our turn, late in the afternoon–whew!
It was a warm, breezy day— we planned to just rest and eat as much as we could. Got a good laugh out finding out the origin of the wild rumour somebody was spreading on the trail about a "fearsome river crossing before Kennedy Meadows!"  It seems that what actually happened is that somebody tried to toss his pack across a creek, missed and the pack got all wet. Somehow that morphed into "scary crossing— a guy's pack got swept away!" Just shows you can't believe everything you hear!
For dinner, we went back to Tom's Place, where Tom had a big batch of spaghetti waiting.  Oh yes!   And of course there was beer.  We only drink one beer each (unlike many hikers who go for a lot more) and we were highly amused to find one labelled "Bill's".  Seriously, that is the brand name!  I also loaded up our packs with all the stuff for the High Sierras.  It involved 9 + days of food, Microspike crampons for me, and my ice axe.  And bear cans!  After I'd stuffed my pack, I almost dreaded even trying to pick it up.  I was sure it would be unbearably heavy.  But to my surprise,  though it was heavy, it wasn't outrageous.  That was very encouraging!
Of course we also got lots of snacks and ice cream at the Kennedy Meadows store, and lounged around there talking to the "locals", who are a lot of fun…a bunch of old retired guys who look like they are former prospectors.  Actually, they're not, but they sure look the part.  All of them were bemoaning the fact that there's no more Saturday Night Movies allowed at Kennedy Meadows.   Some annoying lawyer type person came and said the movie night was illegal and that if they wanted to continue it, they'd have to pay some astronomical fee.  So no more movies.  Bummer.  The only thing that happens now in the movie amphitheatre is a once a month church service.  Well, that's a good thing, but the movies were like the social gathering for the whole valley, and everybody (including the hikers) is very sad that they are no more.
There was a lovely sunset,  and some of the hikers started a campfire.  Bill and I decided we'd rather just rest, so we headed for the nice soft bunk in the little trailer.  No frost on us tonight!
Walk to Lórien: Being tracked in Hollin