Thursday, August 12th, 2010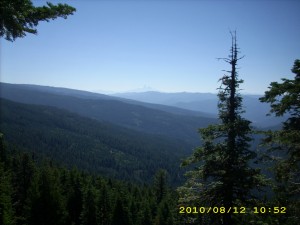 Last night, after lots of good food in Seiad and a long hot climb up the hill, I was so tired that I think I fell asleep as soon as I put my head down! This morning was clear but chilly and very windy. I wore my raingear till breakfast at 7am. (Raingear makes a GREAT windbreaker!)  Just as I remembered from 2005,  the trail was glittering and shimmering in the early morning light.  Lily Pond Lake was covered with lily pads, but no flowers.
We reached Cook & Green Pass, where a sweet older couple were camped.  Not far from there we also met "Hot Mess" and had a chance to talk a little about really knowing Christ.  We tackled the climb out of the Pass then on to what I call the "rollercoaster hills," where the PCT makes like a mini-AT, going up and down and up and down. I tried to hike as fast as I could (huff, puff!). Since the hills are often open ground on top of a ridge, the views were great, and now we really truly were SEEING Oregon!  Whenever there was a spring, the hillside would be green grass–elsewhere we were walking across rocky hillsides with rock cairns to mark the location of the PCT.  Wildflowers are getting more scarce, though–summer is starting to "wind down."
Sometimes the trail went winding around rock formations, and sometimes it would go through a small but dark grove of trees.  We were walking along early in the afternoon when we met another thruhiker stopped by the trail and staring off to the south, looking puzzled.  She had her maps out.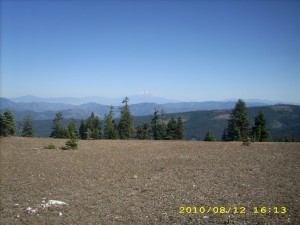 "Hi!" we said.  "Whassup?"  "I can't figure out where I am," she sighed.   "What is that big pointed snowy mountain over there?"When I told her " That's Mt. Shasta," she groaned, "Oh no, still Shasta?" 'Fraid so!
Around 4 pm, we met a whole gang of folks with their horses–a trailclearing crew!  They said they'd been very busy logging out blowdowns.  THANKYOU!  It is so nice to NOT have to climb over a lot of downed tree trunks!  One of the ladies said that her horse has done the entire Washington PCT.  Not bad! 
By 7pm, we reached the Oregon border– a bunch of jolly hikers were there, including Croatian, etc.,  so we got our picture together, signed the register and took off–the mosquitoes were pretty bad. We put in a couple more miles before making camp on a dry ridge.  There was a very pretty golden-colored sunset.  Our first night in Oregon!
Walk with Aragorn to Isengard: Dark clouds from the East begin to overcast the days