Monday, July 19th, 2010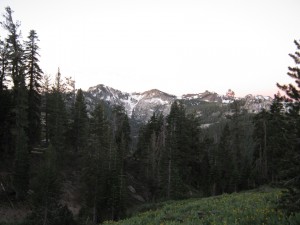 Up, up we went this morning, up to the backside of Tinker's Knob, and fabulous views. We stopped for breakfast with another fabulous view, and the three Israeli hikers came by. "Are you going to Pooh Corner?" they asked. "Yes!" So we hatched a plan of all going together, since one of them had a cell phone and could call Bill & Molly Person.  We all hiked along quickly, running on "town moto", but I knew that up ahead when the trail headed down to Highway 40, it would be slow going for me, with a very rocky tread.
I remembered how frustrated I got in 2005, doing my best to hurry down to the highway, but having to go slowly because of all the rocks.  So when we got to the rocky downhill, I told Bill and the Israelis, "Don't wait for me.  I'll catch up with you eventually."  They took off, zipping right down the rocks, and I figured that while they were waiting around for a ride to Pooh Corner, I'd make it down OK.  And I did, but getting down to Hwy 40 involved climbing around a huge icy snowfield in addition to negotiating the very rocky trail.  I met lots of dayhikers and their dogs heading up the trail and enjoying the awesome views and flowers. Even though I was picking my way down, I loved hearing train whistles below as the engines chugged over Donner Pass.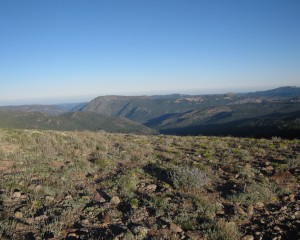 Down at the trailhead, the rest of the gang were waiting for Molly Person from Pooh Corner to  come to get us, and checking out a cache that consisted of a cooler with a couple of bottles of wine!  There was a note inside that said Pooh Corner does not allow any alcohol, but if you call this OTHER trail angel who lives on the other side of Donner Lake, you can stay at her place and have wine and beer if you want.  We didn't care–we heard the food at Pooh is awesome (and indeed it was!)  When Molly arrived, she only had room to take 4 of us, and Evan (the guy Israeli) gallantly volunteered to wait at the trail so that Bill and I and the two girls could go first.
So pretty soon we were at the famous Pooh Corner by Donner Lake.   I walked in and just loved it. The house is right by the lake, and is multilevel, with a rockclimbing wall and fun circular stairs.  But I was totally exhausted, and when I took a shower I had a good look at myself and was horrified.  I was literally down to skin and bones, to the point where I was scared.  I resolved to eat and eat as much as I could, and that was no problem!   There was food everywhere!
  So I started our laundry and  collapsed in a cozy corner under the stairs.  I wasn't the only one–every couch had a sleeping thruhiker on it, and more were out by the dock.  Once I lay down I realized how completely tired out I was, and when Bill Person returned home and started recruiting volunteers to help make dinner, I didn't move.  (For me, that was totally weird–my family says I need a T-shirt that says, "Stop me before I volunteer again"!)  Dinner turned out to be over-the-top-awesome!  Some of the hikers began to grump to each other about the  "no alcohol" rule and that Bill Person was too bossy and loud.  I was too tired to care. Bill and I discussed whether we dare take a zero tomorrow or should we keep hiking?  I know that we need to stay at least till I can repair Bill's pack.  It is a mess.  I went up to the garage to the hiker boxes and found some silnylonish fabric I could use.
Our daughter and son-in-law who live in Reno came over for a visit this evening, and the four of us went and sat out on the dock to enjoy the sunset and the lovely view of the lake.  The Person's nephew, who is the official "Brownie Master" (he keeps fresh hot brownies coming all day long) was swimming with one of the hikers–splash, splash, yell, yell!  Bill was disappointed because he'd hoped to go sailing, but the Pooh Corner sailboat centerboard is having issues, so the boat is not available.  Oh well…there were plenty of other watercraft available. 
At 9 pm, the rule at Pooh Corner is "lights out!" unless you go down to the dock or up to the garage.  Bill and I claimed a spot of rug and crashed.  The house was full of hikers, and the Persons are very strict not just about no alcohol, but also no noise or lights after 9 pm.  Again, there was quiet grumping about this, but Bill and I were glad!  It meant we could sleep in peace, and boy, did we need that sleep!  We both feel profoundly tired.
Walk to Rauros:  Downs on both sides of the river