Sunday, August 8th, 2010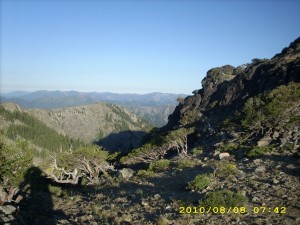 Sunrise light was beautiful on the mountains this morning, with glimpses of the Scott Valley far below. We hiked as quickly as we could, thinking "Etna Road ahead!" But the scenery was so gorgeous that I just had to stop and look at it every now and then. Bill was soon way out ahead of me, and then Ann came along and passed us both! Everybody was "on a roll" for Etna.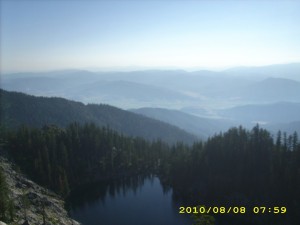 When we reached the road, we waited and waited, but no cars came along.   Our hope of making it to church was growing dim– till  a big gray SUV appeared from around the bend, going  west.  I said, "Bummer–there's a car, but it's going the wrong way."  But all of a sudden, the SUV  swung across the road and roared into the parking lot where we were standing, as  the driver side window rolled down and a voice  shouted cheerfully, "Forsake not the assembling of yourselves together!" I shouted back, "Berean Bible Church!" "Hop in!" said the driver.  It was trail angel Thomas!  All of us were thrilled to see him.   He even offered everybody clean shirts to wear if they wanted to go to church with us.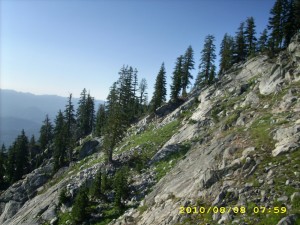 Turned out Thomas had given Babysteps and Flashback a ride earlier and they told him we hoped to go to church, so he came all the way back up and got us! Wow! On the ride down the mountain, all of us snacked on a strange variety of items that he had in the car.  Thruhikers will eat anything, in any combination!  Ann said she'd come to church with us and see what it was like.  Well, it was definitely "different."  The regular pastor was away, and the sub had totally redone the seating arrangements.  Instead of the standard rows of chairs, there were tables.  The idea was you sit at a table, and you get to discuss things that were brought up during the sermon.  We loved it!   Before church started, I had boldly gone up to one of the church leaders and asked if there was anyone in the congregation we could stay with tonight.  He said, "Sure–I'll introduce you after the service." 
And that's how it ended up that we were were taken home  by Susan Hoag, a wonderful lady who is a musician and had so much in common with us (she also lived in the San Francisco area) that it was amazing. God has blessed us with trail angels who know and love Him! Susan has fed us and blessed us and she says PCT hikers are very welcome to stay with her, especially fellow musicians (she's got guitars, etc, available!)
Bill and Susan formed a conspiracy to get me to eat as much as possible.  It sure was nice to be able to have home cooking instead of trail food!  I am feeling so much better just being here.  A shower and clean clothes were a big help, too.  And books to read!   I miss books on the trail.  Some of the younger thruhikers do carry a book to read, but Bill and I hike all day till late, and there is no time for reading. 
Tomorrow we'll get back to the trail, but tonight, it's REST and EAT!
Walk with Aragorn to Isengard: Edoras