Thursday, June 2nd, 2016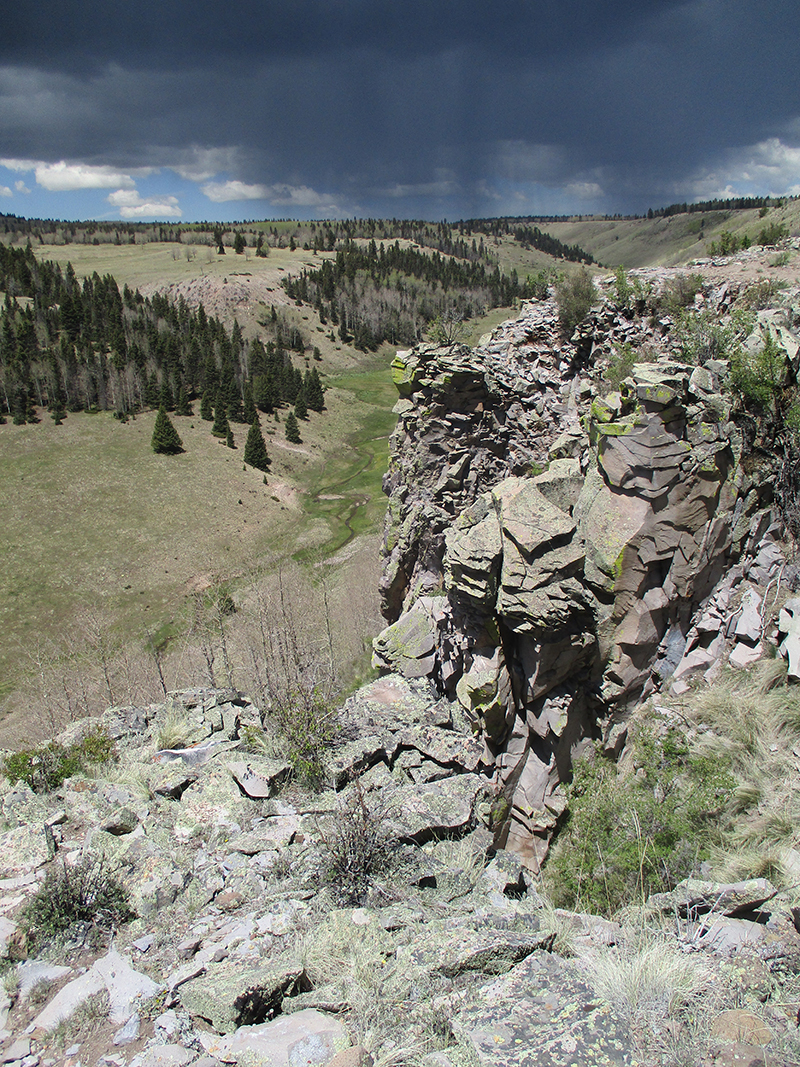 SUMMARY:  Several times every day (and today was no exception) we lose the trail and don't know where to go.  Some of those "lost" moments last 5 minutes, others last an hour or more.  But there is always the moment of joy when we sot a CDT emblem on a tree or post!  What a massive relief!  Today we were "lost" and hunting for the trail at least 4 times, one of them at 5 pm in a dark snowy forest.  But we always found the trail in the end and had the joyful moment of "Look!  A CDT sticker!"  Today there were magnificent meadows, green forests, scary cliff walks, lakes and quite a lot of snow.  We are camped way up on the Divide tonight, at 10,800′ elevation.  We feel like we are on top of the world, plus there is awesome alpine scenery!
DETAILS: Well, if we hadn't got so "lost" on Tuesday, we might have been heading into Chama today.  Oh well.  Today we managed to get lost again FIVE times, the worst situation being at 5:00 pm when we were in a forest full of snow and the trail disappeared.
This morning, we headed out along Trail 41, which had a lot of snowbanks next to the trail that were melting fast and turning the trail tread into a muddy mess.  We tried to go around the messes as best we could.  But aside from that, it was a very spectacular area, scenery-wise.  There were huge, dramatic rocky outcroppings and cliffs and areas where the trail edged around rock fields.  Some of the rocks in those rock fields were HUGE.  We stopped and looked at them and marveled, "How did that huge rock ever get over here?"  I can see why the trailbuilders opted to go around and not through the rock fields!
It was a bright, sunny morning–after all those clouds and thunder yesterday, we were really glad to have the sunshine.  Besides the rock fields, the trail was mostly in forest, but finally we reached a huge green meadow area, where the trail route was marked by posts and cairns.  We hiked happily along, till finally in one very long uphill meadow, the posts and cairns disappeared, and so did all signs of trail.  Our Guthook was gone because the battery was used up, so it was just us and our eyes and our maps.  We spent quite awhile checking every possibility of where the trail might have gone, and finally, way up at the top of the meadow, I spotted a fence with a gate and a CDT emblem!  Talk about a moment of joy and relief!
From the gate, the trail headed down into a canyon, way, way down.  This involved multiple creek crossings.  Unfortunately once again, we lost the trail, and ended up bushwhacking down a steep, muddy, rocky hillside till we reached the bottom, where we had to also crawl under a fence.  We tried to joke about this a bit, "It's still New Mexico–gotta stay in practice at going under fences!"  But we found the CDT again (another moment of joy, spotting an emblem!)   Now the trail headed up high and followed the edge of  a dramatic and awesome cliff.  Ack!  I was so scared!  I had to use my favorite coping technique–just focus totally on the TRAIL and ignore what's going on around it (like huge dropoffs!).  To add to the fun, we were walking straight toward a thunderstorm.  We made it past the cliff stuff and stopped for lunch, keeping a wary eye on the weather.  There was still enough sun that we dared get our sleeping bags out to air, as we always try to do at lunchtime.
After lunch, the trail dropped down again into a very pretty lake 'n creek zone.  We stopped to get water, and shortly after that, sigh…we lost the trail AGAIN.  And it started to rain.  But hooray!  Another moment of joy!  A CDT sticker!  Back on trail, up we went to another scary cliff traverse–whew, was I glad to get through that.  Again, gorgeous scenery, but with so little food and nasty weather, it kind of took the fun out of it.  I was so glad to be back in easy terrain with no cliffs, when a fierce wind began to blow and it started to hail.  We scrambled for cover.  I was thinking, "This is ridiculous.  Today is like crazy."   But the hail stopped, the clouds began to break up, and a little while later, the sun came out for awhile!  We were thinking, "This is the kind of weather we were expecting in Colorado…is this an early 'welcome to Colorado'?
Then the trail headed into a snowcovered forest.  Basically what happens is that out in the meadows, the snow is gone and it's mud and muck, but in the forests, the snow remains.  We were very happy to see a lot of footprints in the snow, all travelling along together.  But after awhile, the footprints began to split up and wander all over the place.  It was late in the afternoon and we were very tired.  I stood there looking at the dark forest and all the snow for a minute and sighed and got out the maps. After some thinking and studying, I concluded that if we just bushwhacked off to the right, we HAD to hit one of the forest roads, and from there we could figure something out.  So that's what we did.  I cheered when I spotted the road, and then cheered even louder when I saw a post with a CDT emblem!  Another moment of joy!  At that point we sat down and ate some cold dinner.  While we were eating, along came another CDT hiker–Cerveza.  She was hiking along the road, and told us "I am so DONE with losing the trail–from here on out, I'm hiking the ROAD."  We said a fervent "Amen" to that, because that's exactly what we had decided to do!
So for the rest of the day, we happily followed a road (the CDT trail had disappeared into the forest again–NO WAY are we going back there!).  The road runs right along the top of the Divide, at around 10,800 feet or so.  It felt as if we were on top of the world, in classic alpine country.  Up ahead of us were the massive, snowy mountains of Colorado, and way down below, we could see green valleys.  Wow!  Awesome!  At one point, we caught up with Cerveza–she had stopped to watch a little mini-drama with a porcupine and a coyote.  I was also  able to spot them both.  Apparently the coyote had decided it wanted porky for dinner, but when it got pretty close, the porky acted threatening and the coyote changed its mind and left.  Wise coyote!  He probably saved himself a facefull of quills.  Finally we stopped for the day behind some trees.  The wind was blowing pretty hard, and the weather looked iffy, so we did set up the tent.  The only food we have left is breakfast and a few odds 'n ends.  Hope we make Chama tomorrow!