About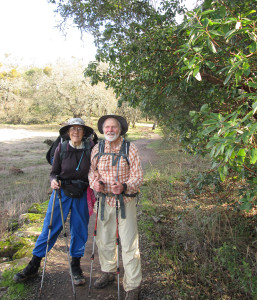 Walking long trails isn't just for 20-somethings! We are "The 3rd Monty" and "Fixit", and this will be our third Mexico-Canada hike. Hike #1 was the whole PCT in 2005, when Fixit was 65 years old and 3rd Monty was 57.  Back then we thought, "Quick!  We'd better do this before we're too old and decrepit to tackle a long trail!" It was a big snow year, and we did a flipflop hike, beginning at Campo, then skipping up to Oregon in June, and on to Canada before going back to finish up the Sierras and northern California. The PCT was awesome, and we ended up in better shape than we'd ever been in before.  So in 2010, we said, "Hey, let's do it again!"
2010 was an even bigger snow year than 2005, but this time we were determined to go straight through no matter what, and we did. Wow, the PCT was even awesomer than before, snow and all!
We didn't consider the CDT to be do-able for people as old as we are, until just for fun we started reading hiker blogs. What inspired us was that in 2010, on the PCT, we met Balls and Sunshine up near the Canada border. When we heard they were planning to do the PCT in 2011, we said, "Great, let's read their blog!" Then they went on to do the CDT, in the same year as Drop 'N Roll and Wired. Looking at the pictures and reading about all their adventures was more than we could bear. We HAD to do the CDT.
So now it's 2016. Fixit is 76 years old and 3rd Monty is 68. Why are we doing this? Well….
FUN WITH AN EDGE—we love hiking, but like a challenge, too. The challenge of hiking Mexico to Canada along the Continental Divide has that "challenge edge."
FITNESS—Hiking long trails keeps us young! We are in WAY better shape, mentally and physically, than most people our age.
FORUM—we find that when people find out we've hiked the PCT twice and are tackling the CDT, they want to talk to us and we get to share ideas and inspiration.
FOCUS—it is a relief to be able to just walk, and not have to deal with all the hassles and complications of civilization. We can focus on the beauty (and sometimes the brutality) of the mountains, forests, deserts, wildflowers, rivers, etc. and the only thing I (3rd Monty) miss is having a water faucet when we need water!
FAITH—There is a verse we like in the Bible, where it says, "We will walk in the name of the Lord our God, forever and ever." (Micah 4:5) We walk the trail (or on the CDT, the route!) together with God who loves us and took our selfish, messed up lives and made us new. Now we see God's creation with a whole different perspective, both the beauty (that He made) and the brutality (that resulted from what we selfish people did).
We plan to leave from Crazy Cook on April 30 (can't leave any sooner, because we run an Awana Club for kids, and it doesn't finish up till April 27).  We did hike part of the route between Crazy Cook and Lordsburg last year, just to check it out, and we're looking forward to going back, and then ON TO CANADA!