Tuesday, May 31st, 2016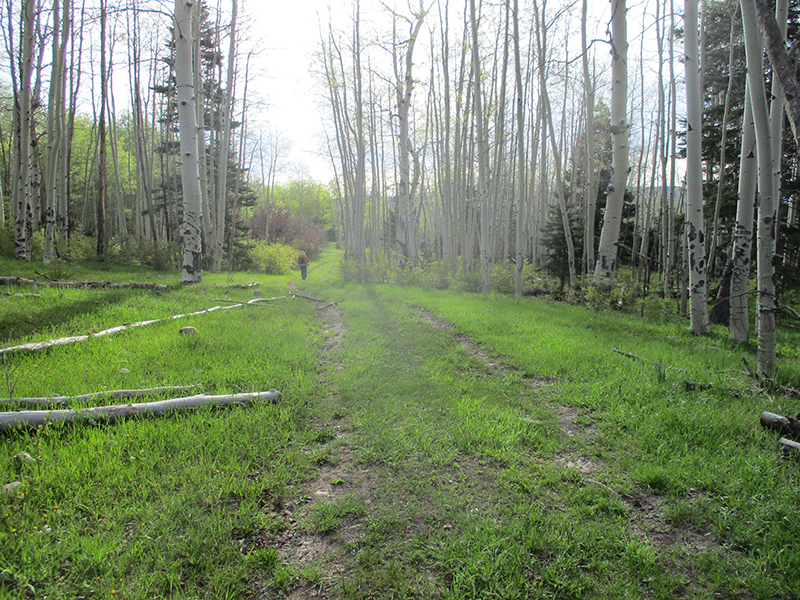 SUMMARY: Well, we spent about 8 hours today either very lost or else not knowing where we were.  Everything was beautiful and we were enjoying the spring greenery, till we ended up losing the trail, and after that–argh!–we were dealing with trying to find a route through snowy forest and marshy meadows.  Finally we found a road that occasionally had CDT "stickers" on posts, and just started following it, not knowing where we were till 6:30 pm.  We are sore from the obstacle course we've been doing, but grateful that at last we do sort of know where we are.  Did lots of praying today!
DETAILS:  I'd heard that "for the first couple of days north of Ghost Ranch, it can sometimes be hard to follow the trail."  Yeah, no kidding!  Yesterday was a bit tricky, but today we spent most of the day pretty much lost and wondering where the trail went, complicated by snow and snowmelt marshes.
At first we were having a great time, enjoying the bright spring greenery, but just before 10:00 am,  we came to a junction where my Bear map said "Turn right here" but the Ley map said, "Or, you can go on a bit farther before you turn right, and it's an easier way to go."  We hemmed & hawed a bit over what to do and decided to consult Guthook, which said to go the Ley way, so that's what  we did. (Not a good idea, in retrospect!)
We found the Ley right turn, and it was "Oh look, nice trail!  This is great!" until suddenly the trail completely disappeared, with no sign at all of where to go.  So we beat about a bit in the woods (Fixit went one way, I went the other, but we stayed within shouting distance) and finally we located a sort of trail.  From what we could decipher on the Ley map, we were now on a proposed route for the CDT, that wasn't built yet.  OK, we figured on just doing the best we could, but it was frustrating!  And to add to the fun, the weather was being totally bipolar.  If you looked in one direction, it was bright blue sky with white puffy clouds.  If you looked the other way, it was menacing black clouds, rumbling with thunder.
Well, we persevered on the "future route of the CDT" as best we could, despite the fact that it turned into an obstacle course of fallen trees, including a whole hillside where ALL the trees had been CUT down and were lying all over the "trail."  We climbed and scrambled through the mess, and suddenly, to our amazement, we arrived at a paved road by a lake, with a picnic area and a post with a CDT sticker on it!!!  All the trees in the picnic area had been cut down, and were lying around.  It was very weird.  None of our maps showed a lake or road or any of what we were looking at, so we had no idea where we were.  But hey, a CDT post and sticker–that must be the way??  So we followed the "CDT" and it led us a merry chase over hill and dale, through a snowy forest, and finally into a long meadow.  A faint trace of trail was still available, so we followed it (dealing with mud & swamp & mess along the way) until all indication of "trail" of any kind completely disappeared.
Time to check Guthook again…it pointed us into the forest, and we did find a sort of trail, but the only footprints on it were cows.  We had not seen any other human footprints all day.  At this point, we were pretty much in despair, and only hoping to find something that could at least get us to some sort of civilization.  We were doing a lot of praying!  But finally we got to the edge of the snowy forest and found a meadow with hooray!  A road!  We had no idea where we were or where the road went, but we prayed and gave it our best guess and started to follow the road.  A little way along, yahoo!  A CDT sticker!!  We kept going, and yay!  Another sticker!  We looked at our maps but still could not figure out at all where we were.  Then in the distance we heard a welcome sound–the roar of 4-wheelers!  Pretty soon there they were–six of them.  We flagged them down and got out our maps and asked them if they could tell us where we were.  No luck.  Turned out they never use maps–they know all the roads–and could not give us any advice at all.
Oh well….we kept going and finally, at 6:30 pm, we reached a place that was unique enough for me to find it on the map!  At last we knew (or hoped we knew!) where we were.  A half hour later we found a nice campsite and collapsed.  Man are we tired and scratched up and sore!  But the sunset was unbelievably beautiful, and 3 military jets flew over really low (very exciting!).  We hope and pray that tomorrow will be better!