About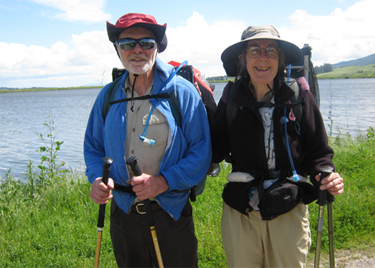 Bill "White Beard" and I (The 3rd Monty) are PCT alumni (Class of 2005).   We are 70 years old and 62, respectively, and determined not to join any kind of "senior citizen rocking chair society" anytime soon!
The picture here, by the way, looks a bit squinty-eyed, 'cause we had to face the sun and be half-blinded to get a bright enough light.  We had just gotten back from a day on the trail, and figured we looked properly hiker-ly, so with the sun low in the sky and right in our eyes (squint, squint), we got a picture taken!
Bill is a retired stationary engineer (that means he used to wrassle with big pipes, steam, electrical stuff, big motors and machines, etc) and  I am a retired ballet and theater costume maker.   When we decided to do the PCT, I switched from sewing tutus to sewing  hiking gear!
My personal dream of hiking from Mexico to Canada started when I was about 12 years old.  My family and I were camping and hiking around the area of Tuolemne Meadows in Yosemite.  We were fishing in the Tuolemne River, right near where the river begins its dramatic plunge down into the Grand Canyon of the Tuolemne.  There is a bridge at that spot, and we were picnicking and enjoying the High Sierra beauty, when along came a man with a couple of horses, one to ride and one loaded with gear.  He asked my dad to take his picture by the bridge, so we asked him where he was headed, and he said, "I'm riding from Mexico to Canada".  None of us had ever heard of such a thing, and my immediate response was, "Wow!  Would I like to do that!  Oh, yes!"
Later on, I met Bill, and we had lots of adventures, including 5 years in southern Africa helping to start a group called "Children for Christ" which was a non-denominational mission to help children find out how to truly know Christ, not just know ABOUT Him.
Back in the USA,  Bill and I often went camping and hiking and backpacking, and began to encounter pieces of the PCT.  We began to say, "Someday, we could do the whole thing….someday before we get too old."  We got Ray Jardine's book, and started changing our backpacking habits to be more like "the Ray Way."   When Bill retired in 2005,  we figured it was now or never.  And we did it!  We made it all the way from Mexico to Canada, and  what we didn't expect was that hiking the PCT fixed all Bill's aches and pains, and made us both far stronger than we had ever been before… and we thought we were in good shape to begin with!  While the people we knew who were our age were getting knee replacements and using multiple prescription meds for chronic medical conditions, we were medicine-free, feeling great and raring to have another go at the PCT.   "Do it again in 2010!" became our motto!
Besides planning and training for the PCT,   Bill and I are also Commanders of an Awana Club for kids ages 3 through 17.   We spend many hours every week working with the kids.  Awana is an international, non-denominational Christian organization that exists to help kids in over 150 countries around the world to know and love and serve the Lord Jesus Christ.   Our club meets after school every Wednesday during the school year, and the kids enjoy games, Bible study and memorization, stories, puppet shows, etc.  The older kids are "leaders-in-training" , learning to teach and help the younger ones.   Our club also goes to competitions with other Awana clubs from all over northern California and Nevada, and we do very well!   Coaching our various teams takes up a lot of our time, too.
Bill likes to hike the John Muir Trail every year, and tries to set a new personal record time also.   He has it down now to 7 days and 8 hours for the whole 220 miles.  (He says he would have made it in less than 7 days if his headlamp hadn't conked out on him).   He travels superultralight and lives on very little food.   We park the car at Horseshoe Meadows and hike out to Mt. Whitney from there.   I only go with him as far as Whitney, because I don't like superfast, superlight backpack trips.   I am too much of a hobbit–I like to EAT, and I don't like to hike at night, and I like to walk at a more easy pace.  So he takes off from the top of Whitney to race his own best time to Yosemite Valley, and I hike back to Horseshoe Meadows and go home till he calls to say "I'm done–come pick me up!"
Bill is also a Sergeant in the local Salvation Army church, while I help with music.   For many years, while Bill was a stationary engineer, he always had to go to work on Sunday and never got to go to church, so I ended up going to a wonderful orthodox,  Biblical  Episcopal church called St. John's, located in Petaluma, California.  The church was built in 1856 and it was very beautiful and historic, but full of life and genuine Christians, not just people going to a religious social club as many churches are.   I got quite involved there, and still am, but when Bill retired, he visited around to various churches, including St. John's, but finally settled on the Salvation Army.   So on Sundays I now go to a very early service at St. John's, then off to spend the rest of Sunday at the Salvation Army.   But (sigh)  St. John's no longer meets in our lovely old building.   We pulled out of the Episcopal Church, and were forced by the denomination to leave it behind.   We now meet in the local community center.  So on Sunday mornings at 7:00 am, you'll find me there, helping set up for the service that begins at 8:30.
At home,  I grow most of our vegetables and a lot of fruit in our backyard.   Pretty much every meal at our house includes something that came out of our garden, no matter what time of year it is.   That's one nice thing about California!   When we did the PCT in 2005, we took along dried veges from our previous summer's garden!    Bill does a lot of handyman work for other people and for the church, and he can also be found crawling around under a car periodically, since he does all the work on our cars himself.    He gets a lot of parts at the local "Pick 'n Pull" –sort of a very well-organized auto junkyard where you find a car that's the same kind as yours and remove whatever part you need (you do this yourself!), pay for it, and take it home.
Both of us read a LOT, and there are books everywhere at our house, on all sorts of subjects.   I am really into science, especially creation science, and try to stay on top of all the latest developments.   We enjoy history, theology, and many other subjects, and when we are hiking along a trail, the likelihood is that you'll hear us discussing something along those lines.   One of the most exciting parts of doing the PCT was watching the "geology stuff" along the trail, and the "botany stuff" and just enjoying the incredible and varied beauty of the world God has created.
So now, if you meet up with us along the PCT this summer, you've got a bit of an idea as to who we are!  When we went in 2005,  Bill got the trail name "Safari Bill" because the other hikers thought he looked like he was on safari (funny, they didn't even know he DID spend 5 years in Africa!) and Bill named me "Apple" because I like fresh apples so much that I even (horrors! ) bring them on a backpacking trip.     But last year, when we were doing the John Muir Trail,  one of the 2009 PCT thruhikers said I should be called "The 3rd Monty" because there are two other Montys that do the PCT–"Mad Monty" and "Warner Springs Monty."   All of us really are named Monty, and I have a picture of myself with the two other Montys at ADZPCTKO.    And Bill earned the name "White Beard" because his beard really has turned white, and it's very distinctive on the trail.  Some of the guys who were climbing Mt. Whitney called him that, and we decided it should be his new trail name!