Wednesday, June 30th, 2010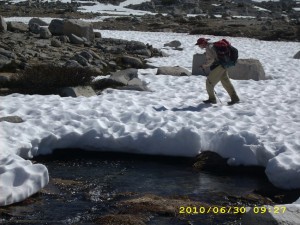 Another tough day!  It took us from 5:30 am till 7:30 pm to do only 11.7 miles!  We were climbing over snow most of the day, which makes for slow going.  This morning, a short walk took us to the South Fork of the Kings River. The ranger note yesterday said, "do not cross here— way too dangerous. Walk upstream to where the trail crosses back over."  Yup, the river was obviously quite deep and was a  roaring torrent all the  way across.   Bill was still determined to cross it, however.  I begged him not to, but PLEASE to just walk up the near side as the ranger had advised. To my great relief, Bill finally agreed to follow the ranger's suggestion.
Turned out that the "bushwhack" up along the south side of the Kings was very pleasant and easy and pretty, too. It isn't steep and has a nice open feel to it, so we could admire the magnificent Sierra scenery.  Not only that, but it was not wet or muddy, and there were no big tributaries to ford.  If we had bullied our way across the river down below and determinedly stuck to the PCT, we would have had several more nasty creek crossings.  We could see those tributaries coming in from where we were on the other side, and commented, "I sure am glad I don't have to ford THAT!" 
It was a good thing that the first part of the hike up to Mather Pass was not very steep.  Bill is still not feeling well at all.   He still has to stop and rest a lot, and can't eat much.  He decided to start taking Flagl to see if it would help.  Eventually we reached the PCT again, well up toward the pass, and simultaneously were  back into the snow and playing "Where's the trail?" The snow turned out to be a great benefit in one way, though–we could cross creeks on snow bridges and not get our feet wet!   I love snow bridges!
In retrospect, though, I should have realized sooner that walking on miles of snow without protecting your lower face from sunburn is really dumb!  I was so absorbed in just dealing with being terrified half the time that I didn't even notice I was developing a pretty bad sunburn.   Bill has a beard, so there's no problem for him!
 We reached the foot of the pass (again, made very difficult by so much snow) and found quite a few other folks also heading up, more than we have seen on any of the other passes.  I could not believe that we'd caught up with so many of them after our slow going for the last couple of days.  Going up Mather is the steepest of all the passes, and very scary. Bill whizzed halfway up and sat there chatting with another hiker while I painstakingly "chopped in" every step I took with my faithful ice axe. I felt very bad about being so slow, and felt even worse when I got to the point where I could hear Bill and the other guy laughing–at ME!   "It is painful to watch, isn't it?"  joked Bill, pointing at me, and the two of them thought it was very funny.  I know that guys like to give each other a bad time (it's a guy thing, and normally I don't care), but I was so scared and tired that it really hurt and I had to fight not to cry.  As soon as I got to the "breather spot",  Bill took off again and I sat there feeling very low. 
Then a wonderful thing happened.   A young couple came happily climbing up the steps I had just chopped, with the wife rejoicing at how easy it had been for her "with these nice steps."  She mentioned how worried she had been about the steep climb up Mather.   I didn't pipe up with, "Well, you can thank me–I made those steps",  but I was so blessed and encouraged!   I picked up my ice axe and tackled the next climb, feeling much more cheery!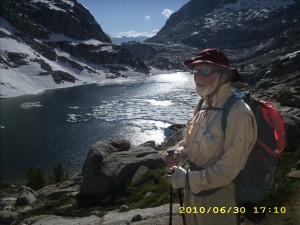 Woo-hoo!  I reached the top at last.  Going down the other side of Mather is not as steep or scary.  It involved a mix of scrambling over snow and rocks.  Bill is always way faster than I am on this type of terrain, even when he is not feeling good.  I have to be especially careful when scrambling on rocks.  I don't have the world's best sense of balance, plus the challenges of wearing bifocals (makes it hard to judge distance) and I have rather floppy ankles.  So on rocks, I'm very cautious!  
But finally we made it down to Palisade Lakes, which were still semi-frozen.  The ice was breaking up, though,and there were cute little "baby icebergs" floating in the water.  I wish I had a picture of them, but we'd had a very nasty stream crossing just above the lakes that looked dangerous enough that I'd wrapped the camera thoroughly in plastic bags and set it high up in Bill's pack.  Once we got across (all went OK!), Bill took off and was way ahead of me, so I had no camera available.  Too bad–those really were totally cute little icebergs!
Then it was down the famous "Golden Staircase" with its huge rock steps. I yelped a little at each step down, because my poor knees were already so sore from all the snow and rock scrambling.  I LOVE my trek poles–what a help they are when my knees are tired!  And seeing the green grass and forests in the valley below was also encouraging.  In 2005,  I cried a bit on this stretch out of sheer frustration at being so slow on the huge rock steps and rough trail.   I cried a little bit this time, too, for the same reason.  But those green meadows and trees were getting closer and closer!   I felt like I was "coming in for a landing" on an airplane!
 As soon as we were down in the valley, and back into nice dry forest,  we stopped and camped, completely wiped out.   It was 7:30 pm.  When we were doing our best to clean up before getting into our sleeping bags, Bill and I both discovered that we have a rash on our lower legs.  What could it be?  Sunburn-related?   Just being constantly wet?  At any rate, it does sting a bit.  I also realized, duuuuh! that I had a very bad sunburn on my lower face.   Tomorrow I will wear my black mosquito headnet when we come to snow.  That should help!  
Walk to Lórien: Reach the Guardroom junction in Moria