Friday, July 9th, 2010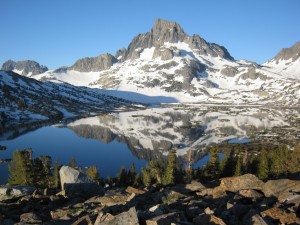 The 20+ miles we did today were tough miles, but we managed to land up in the end at Tuolumne Meadows! We were up 'n at em at 5:00am, knowing we had TWO snowy passes to cross. First was Island Pass, with its gorgeous views of Banner Peak and Thousand Island Lake. The snow was definitely a factor, but not too bad compared to what we have been through. We never lost the trail for very long.
Then the PCT took us down into an area with a multibranched creek, and we got totally messed up. Wel missed a turn of the official PCT, and unknowingly headed off on some other trail that eventually just petered out in the woods.  We tried to go back and find the PCT again, which involved a lot of creek crossings, and no luck in locating any trail.  Bill finally said, "Forget this!  Let's just go for it.  We'll go straight up and get to Donohue Pass somehow."  So we just headed off through the woods and uphill.  Eventually we came to a very rocky area, and oh joy!   There was the trail again!   (I think Bill may have been a little disappointed, though.  He sort of likes bushwhacking adventures!) 
The rest of the climb up to Donohue Pass was a rerun of what we'd been through before–watching for bits of trail appearing out of the snow, and heading for them.  When in doubt, oh well–just head for the top of the pass.  One really nice thing was that Donohue is not a steep, scary pass like some of the others, and it isn't rough and rocky.  Instead, it's huge sheets of smooth granite–very comfortable to walk on.   When we reached the top, we were very amused by a drop box where people could leave their survey forms (not sure where they got them originally) to give their opinion about their trail experience.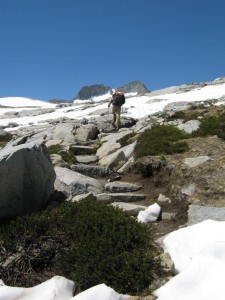 As we started down the other side of Donohue, we began to meet more and more JMT'ers–all sorts of folks, both old and young.  Partway down we stopped to cook a hot lunch, but didn't linger over it, because we were determined to reach Tuolemne Meadows post office before it closed. So once we were across the last "big ford" of the Tuolumne River, Bill took off. I followed as fast as I could.  The trail was very rocky and rough as it headed down into the Tuolemne River valley–which made for slow going (for me), but the flowers (especially the "heather" ) and the views were so beautiful!   Whenever I am anywhere near Tuolemne, I alwasys feel as if I'm "coming home" because my family camped here several times when I was a kid.
Once I made it down the rocky hill, the PCT goes for many miles through green meadows, forests,  and creek crossings.  I very much wished it were earlier in the day so that I could linger and walk more slowly to enjoy the beauty,  but instead I pushed along as hard as I could.  A couple of miles before I reached the campground, I was so exhausted that I had to slow down, and by the time I reached the "hiker hangout" by the store, I was totally wasted.  All I could do was just collapse on the ground.  It was 6:15 pm, and it turned out that Bill had only beat me by 40 minutes. 
 However, he did have our box, and he had bought some Odwallas,  so I lay on the ground and slowly sipped an Odwalla till I felt revived enough to tackle sorting the box.   Lots of other thruhikers were doing the same thing–it was fun talking with everybody and seeing what they had in their boxes!  The Disraeli Gear had really interesting stuff–they are from Israel, and their food items were not like ours.  I particularly enjoyed talking to "DoubleCheck"–he's a very enthusiastic, interesting chap.  Meanwhile, Bill had gone off to find us a place to camp.  His final conclusion was "Let's just go to the backpacker camp." 
So with heavy packs (7 days of food to get us to Echo Lake), we strolled over to the backpacker zone.  I was concerned about finding a water faucet where we could fill our platypuses.  I asked several people, but nobody knew anything.  All they could say was, "I guess you could get water at the bathroom."  At this point, I was so tired that all I wanted to do was collapse, but instead I ended up wandering all over the campground, looking for a faucet.  No luck.  I couldn't believe it!   Finally, almost ready to cry, I dragged myself back to our camp and voila!   Not too far away, near the campfire circle, I found the faucet!  As soon as I filled the platypuses, I crawled into my sleeping bag, completely wasted.  Bill and I are cowboy camped, and surrounded by lots of JMT'ers in big tents.  I couldn't believe they were planning to drag those big heavy tents with them!  And they were equally astounded that we only carry a tarp, and only set it up if we HAVE to.
The ranger campfire program nearby was a familiar sound, and it was nice to know that our food was safe in a bear box for the night.   All through the Sierras, Bill and I have been keeping only our "smellier" food in the bear cans (things like Snickers and cheese, etc).  The rest of our food just parks in the food bags as usual, and we sleep with the bags right next to us and trek poles at the ready in case a bear comes around.  We've never had a problem, since we never camp near water, nor do we camp where other hikers are.  But still….it was a good feeling to have that nice bear box!   And it is so wonderful to have reached Tuolemne!
Walk to Rauros: Leave the border of Lothlórien and are given gifts from Galadriel