Sunday, June 20th, 2010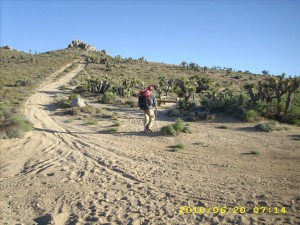 This was another very good but hot hiking day. We started off tired, though— the wind howled and roared all night and kept shaking my sleeping bag, so I didn't sleep much, and neither did Bill.  We had to be really careful as we packed up, that our things didn't blow away!  It was a 50 degree morning, and as we started down the trail, the wind was slamming us around so much that it was really hard to walk…and hard to see, too–the chilly blast made our eyes water like crazy.  I was staggering along the trail, wiping at my eyes!  For breakfast time, we squeezed between some rocks, while the wind howled around us.
In spite of the wind, though, we enjoyed fantastic views of desert and mountains to the east, and when we reached the crucial water cache at Bird Spring Pass,whew!   There was plenty of water.  The 10 hikers ahead of us had not taken it all.  There was a sign by the cache that begged hikers to PLEASE not leave their trash, but just to take water.  Sadly, there was a fair amount of trash.  I think that the hikers who were thoughtless enough to disregard the sign don't realize how difficult it is for trail angels to get up to this pass.  We all hate having to carry trash, but that's part of backpacking.  Deal with it!
Then came the 2 hour climb out of the pass.  We stopped at the top of the steepest part of the climb for a Snickers break, among rocks and pinyon pines.  The wind was slacking off, and the day was becoming very warm.  The trail continued to climb, but much more gently and finally at the top we could see snowy Sierra peaks on the horizon!  I noticed that the snow looked a bit patchy, and cheered, "Lord, keep the sun shining and the snow melting!"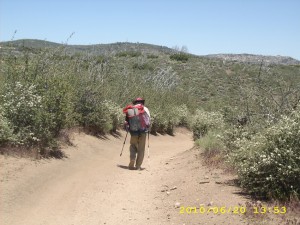 Then came a long time of hiking through pretty but viewless forest till we reached the "burn zone" and had to hike in hot sun mile after mile with no shade.  The PCT in this stretch is a dusty jeep road (no vehicles this time–we met motorcyclists in 2005).  It winds and twists lazily along, steadily climbing.  The views are very good, but it was so hot, and I was so tired from lack of sleep that  around 2:30pm, I just "bonked" and it was really hard to keep going. Fortunately it wasn't far to McIver spring and cabin. What a great place! We bypassed it in 2005. That was a dumb thing to do!  It is a wonderful place for tired, hot, thirsty hikers!
Our plan was to just quickly get water and rinse our dirty socks before heading back to the trail, but we ended up washing ourselves, too, and then we sat around for quite a long time on comfortable chairs in the shade, reading the hiker register.  I felt 100% better than I had when I came down the road to the cabin, "with my tail dragging."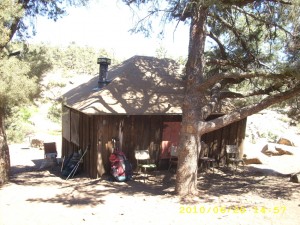 But best of all, Bill got a miraculous Father's Day gift— sitting on a table in the cabin, next to the trail register, was his pocketknife that he lost at Casa de Luna. It belonged to his grandfather and was very special to him. Wow!   To say we were encouraged would be an understatement!  Much refreshed, we finally got back on the trail, which contoured very nicely along a large, steep canyon, then slowly headed down toward  Walker Pass .  We decided not to camp in the campground there, and instead turned off the trail, went down to the bottom of the canyon, and found a nice quiet place  out of the wind. It was a warm, lovely night.
What a relief to camp without howling wind–but I had a new concern to pray about before I went to sleep.  For some reason, my feet are horribly sore (after never giving me any problems before), and my right hip especially hurts tremendously.  Again, I don't know why.  I have had no previous trouble with it, either.  So (as I did when baffled by odd problems in 2005) I asked God to show me what was wrong, and how to fix it.  I'm looking forward to seeing what the answer might be! 
Walk to Lórien: Rolling hills near Rivendell