Friday, May 21st, 2010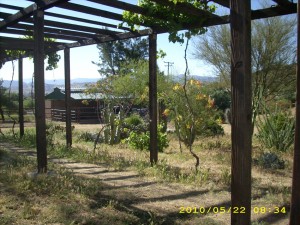 We were up at 6 am today, and ate  the last of our leftover trail breakfasts while enjoying the jolly company of other hikers and some of the Hiker Heaven volunteers.  One of those volunteers is a retired school band director–  which reminds me, I haven't mentioned that one of the fun features of Hiker Heaven is the musicians. There's a piano, a "hiker guitar" (which gets LOTS of use!) and now a trombone, because yes indeed, the band director serenaded us on his trombone that he brought along.  Since I played trombone myself in high school and college, that was totally cool!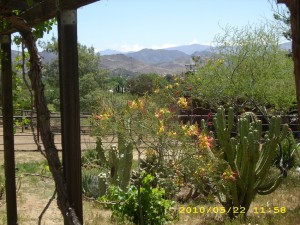 It's much cooler today— yesterday we were all looking for shade, but today we looked for sun.  We had fun hanging out with Transient and JJ.  Transient was telling stories of his adventures in Europe while in the army, and JJ told us about his "wild" youth.  He said that later on when he got older, a lot of things in his life went all wrong, and he ended up for awhile as a 400 lb. alcoholic who had just about given up on life.  But finally he came to his senses and said, "What have I done?"  The first thing he did was try to exercise.  "I could only walk a half block at first,"  JJ laughed.  "One time I really outdid myself and walked THREE blocks–then I had to call a cab to take me home!"  But he persevered, and the weight began to come off.  Now he's an avid hiker of reasonable weight, and has even climbed Mt. Whitney!    Way to go, JJ!
The other thru-hikers are all talking "Sierras". Many bought "serious snow equipment" at REI yesterday–ice axes, crampons, goggles, etc.–and are determined to "go for it", despite the fact that yesterday they  plowed four feet of NEW snow off the road over Tioga Pass.  Georgi Heitman in Old Station sent word to Hiker Heaven, "Don't even THINK about coming up here right now.  There's way too much snow!"   Bill and I do plan to go straight through, but we will take our time about getting to Kennedy Meadows so that hopefully the snow will have melted down more. 
 Some folks are planning to do "moonlight hiking" tonight, since it's easy trail and a close-to-full moon. Bill and I are resting (me, writing!) and tomorrow morning we will head out for a 9:00 am church service (it's about an hour's walk from here and right along the PCT route). After church, we'll just keep going!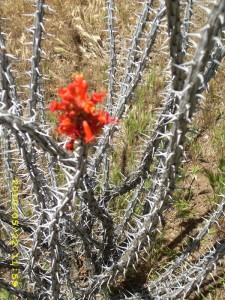 Walk to Rivendell: In Rivendell!