Sunday, August 29th, 2010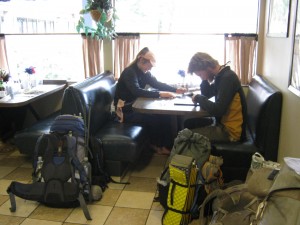 I "slept in" until 6:45am today, but was so hungry that I got up and went to eat at the restaurant, after making coffee and eating yogurt in our room. Bill was still feeling sick and weak, so he did not join me, but stayed in bed. When I got to the restaurant, there were backpacks everywhere and lots of hikers. Fun! I ended up having a lot of different conversations with different folks. Many of them have skipped large portions (all of Oregon, in one case!) of the PCT to be here.
But one of the hiker ladies I talked to who is my age (62) and I were comparing notes on how thin we had become. She knows about "medical stuff" and told me, "You and I aren't hormone-protected like the younger women. Their bodies fight to hang on to every ounce of fat, but we're post-menopausal, so we don't have that anymore. We're kind of in the same boat as the men now. You notice how thin they are?" And I realized she was right.The guys are all really skinny.  So I guess I'll just do the best I can. Only 500 miles to go!
After breakfast, I went back to check on Bill.  He still did not look or feel good, but he still wanted to go to church. I wanted to go, too, and it was only a short walk  to Cascade Locks Community Church. Turns out they have Awana, Good News Club and they are really nice! There was a potluck after the service, which I went to, but Bill did not feel well and went back to bed. He says he is determined to leave tomorrow morning as planned, so once I got back from church, I am loaded up the packs and got everything ready to go.
For dinner I went all by myself (Bill still could not face any food) over to a pizza place that the hikers all seem to like.  The pizza was OK, but I've had better ones.  I saved a couple of small pieces for Bill, in case he felt up to eating anything, and when I got back to our room, he did nibble on them.  Poor Bill!  I've been running around having fun and eating to my heart's delight, while he's been feeling sick and lying in bed.  I am asking God to please help him feel better.  Tomorrow we begin the PCT in Washington!
Walk with Aragorn to Minas Tirith: Following along the River Ciril