Wednesday, August 25th, 2010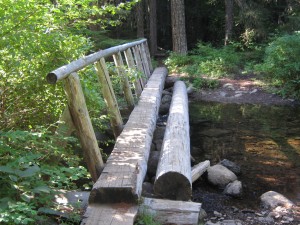 Today was smoke all day, beginning with an orange-red sun early in the morning– and a slightly late start  because I didn't wake up in time.  As we headed out along the PCT,   beams of light coming through the trees were actually red when they hit the forest floor and tree trunks, so it almost looked as if the forest were on fire. It rapidly turned into a hot day— ninety degrees in the shade. Fortunately, there was plenty of shade! The forest was beautiful, with enough openness that you didn't feel closed in, and broadleafed trees as well as evergreens.
We spent the morning walking through Warm Springs Indian Reservation. The folks there were busy with some logging.  Several spots along the trail were freshly clearcut, and we could hear the sound of chainsaws in other places.  Yesterday on our long drive around the fire,  we'd had a discussion with Mr. Peterson about forest management, including logging.   He said that believe it or not, there actually is a trend towards logging with horses (just like "in the olden days"), the reason being that horses don't damage the forest like mechanized equipment does, AND they are cheaper than helicopter logging.  Interesting! 
We reached the nice log bridge over the Warm Springs "River" (creek, actually) and stopped to rinse socks and get water.  The light in the forest was incredibly beautiful, because of the smoke haze in the air.  All the trees and rhodies and plants looked as if they had a golden glow to them.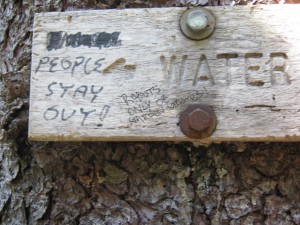 Finally we reached big, blue and very smoky Timothy Lake.  Only a few people were camped  there (instead of the usual summer crowds), and those few were out in the lake swimming, yelling and splashing. Man, would we have liked to join them, but we needed miles, and there were rumours of a hiker cache at Wapinita Pass (True rumours, as it turned out!)  We had planned to stop for water at Little Crater Lake, but changed our minds when we spotted a really nice spring just below the trail.  It had a wooden sign that said, "Water", but somebody had marker-penned in an indignant request, "People Stay Out!"  The spring does flow into a pretty little pool, and I guess maybe kids were playing in it??  We took a little rest break in the shade at the spring, and enjoyed the COLD, wonderful water!
All afternoon long, I felt as if I were hiking at sunset, which is my favorite time of day to hike!  I loved the golden light and the beautiful forest, but felt bummed that this loveliness was caused by a forest fire.  The trail is easy walking and we decided to aim for eating supper at Wapinitia Pass, just in case there was a cache there.  The PCT went on a long contour along steep mountainsides covered with rhodies, and most of the rocks were covered with moss.  Finally we reached the mountainsides where normally we'd have awesome views of Mt. Hood just up ahead, but (sigh) because of all the smoke, we could barely see Mt. Hood at all.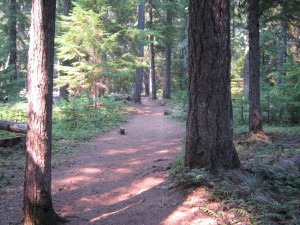 As we approached Wapinitia Pass, there was a great big log with (hooray!) a large cooler next to it.  We cheered and yelled, slung off our packs and looked inside to see what we could find.  Oh yes!  Goodies!   It had apples, soda, beer and candy— great additions to our crackers, peanut butter and dried fruit!   We got very comfortable, sitting on the ground with the log as a backrest, and enjoying the food.  It was hard to get up and go on. 
From there we hiked (the PCT was a Nordic ski trail at this point, well marked!)  till a couple of miles before Barlow Pass and managed to organize a cowboy campsite on a forest floor full of plants and fallen tree branches— not easy!  From what we could see up ahead, it looks like there are no more forest fires between us and Cascade Locks, and the smoke from the fires behind us is slowly lifting and blowing away.  I hope they are getting those fires "knocked down"!    Mt. Hood still has lots of snow on it, which will make the river crossings tomorrow rather "interesting".   Bill and I agreed on "Second breakfast tomorrow at Timberline Lodge!"
Walk with Aragorn to Minas Tirith: In the land of Lamedon, home of Gondorian sturdy hillmen