Saturday, August 21st, 2010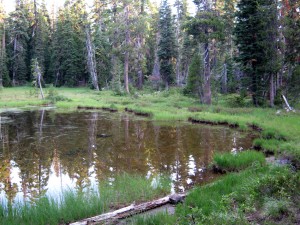 Last night, a lot of clouds moved in, and this morning it really looked like "maybe rain."  So we put our packs into "rain mode" just in case, before heading out along the trail.  We spent most of today hiking through the Sisters Wilderness "pond and lake" zone, which meant a lot of twisting up and down through rocky knolls in the forest, interspersed with mostly ponds (some with water lilies!!)  and a few real lakes. It's damp here, and there were whole "lawns" of intensely green moss. The trees have long strands of graygreen lichen hanging from every twig. Finally we started getting glimpses of the Sisters mountains up ahead.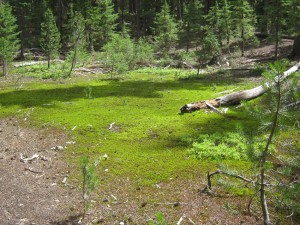 As we walked along, we'd been joking about taking the side trail down to Elk Lake Resort to get a big juicy hamburger, but when we actually got to the junction, it was a sad, sad sight.  There had been a forest fire, and the hillside was blackened and ashy, all the way down to Elk Lake.  Bummer!
But the farther we hiked, the closer we got to the Sisters, and our excitement grew.  "No getting lost up there THIS time!" we cheered.  In 2005, the whole Sisters Wilderness was full of snow, it was raining so hard that we could see no landmarks, and we got quite lost for awhile before relocating the trail. 
This morning, we were doing the climb up into Sisters, when we met a hiker going SOBO and stopped to talk.  Good thing we did!  He was actually a NORTHbound thruhiker, who'd stopped for a rest and then when he started out again, he forgot which way to go and headed SOUTH!  We were able to set him straight, and he hiked with us for a little while, but soon we left him behind.  We were hiking a lot faster than he was.  And by the way, Bill is feeling much better.  I don't know if it's the prospect of going through Sisters Wilderness, or what, but he has been able to hike right along today!
The PCT took us up to a green-meadowed crest, then down to the Sisters Mirror Lakes.  A number of people were camped there already.  We found a nice rocky perch by one of the lakes and ate our supper.  The sun even came out for awhile, and it felt good!  Our suppertime entertainment was a mama duck and her ducklings foraging along the shore nearby.  Then we shouldered our packs and kept going, till we reached the "high point" of the day, not in altitude, but in amazing-ness.  It's called the Wickiup Plain.
In 2005, all we could see of the Plain was a wide pumice field, because we were in rain and clouds.  This time, we saw…wow!  The Plain is huge, and South Sister rises right out of it!   We were standing right next to the South Sister Peak, all snowy and gorgeous and magnificent.   We spent a lot of time oohing and aahing as we went crunching across the pumice.  And not only that, but the pumice was dotted with many tiny, dwarfed wildflower plants in bloom, all colors.   I wish we could have spent more time there, but it was late in the day, there was a very strong, very cold wind blowing, and we had to make more miles.
The PCT route is marked with a series of upright posts across the Plain, and this time, when there was a trail junction, there was actually a SIGN on the post to tell which trail was which!  There were no signs in 2005, and it was tough.  We met another thruhiker named "Symbiosis", who told us about "Carhop".  Carhop has a unique plan for thruhiking, which involves two of his own cars, so that every time he needs to go offtrail and resupply, one of his cars is waiting for him. 
We got across the beautiful Wickiup Plain and headed back into the woods.  We reached the creek where we lost the trail in 2005, and I was very curious to see where the PCT actually went!   Well, turns out it switchbacks WAY down the mountainside!  The forests and meadows right now are gorgeous–very green, and full of wildflowers.  Much prettier than our 2005 experience of snow and rain!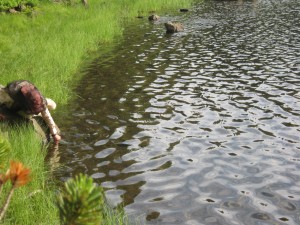 Eventually we stopped and camped in a grove of trees and set up the tarp, prepared for a very cold  and possibly rainy night. The clouds (which appeared to threaten rain all day) looked like they might (I hoped) be blowing away in the wind.  And best of all, with the wind and the cold–NO mosquitoes!!   And Bill is so much better–he can't hike "on a tear" like he was before, but he was able to eat and hike at "normal" speed, all day today.  Tomorrow we get to see MORE awesome Sisters Wilderness! 
Walk with Aragorn to Minas Tirith: Brief rest at Meduseld in Edoras, then south toward Harrowdale