Thursday, August 19th, 2010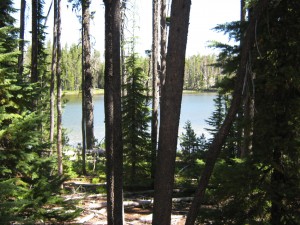 We were a little late getting up because  1) The watch alarm didn't go off  and 2) I was burrowed into my sleeping bag and didn't see the sky lightening.  It was 5:35–horrors!–when I woke up.  We packed up as fast as we could and hit the trail.  And Bill was totally on a tear–he took off like gangbusters and said, "See you at breakfast–I'll stop at 7:00."  He was soon out of sight.  I just can't hike that fast, because I'm too klutzy–I'd be falling on my face every 5 minutes from tripping over something.  So I said, "Lord, just put me on Your cruise control"  and I hiked along as fast as I felt comfortable with. 
Bill waited for me just past the Tolay Camp junction.  A whole bunch of thruhikers were camped at the junction itself, but nobody had even ventured out of their tent yet!!  I couldn't wait for breakfast–I was really hungry.  Our cup 'n a half of granola & nuts just doesn't cut it anymore.  I've been bringing some stuff to add to it.  Yesterday we had a Danish and granola.  This morning it was a bun with peanut butter plus the granola.   After breakfast, Bill took off, and I didn't see him till "Snickers break" at 10:30. 
The PCT was in the forest again, and there had been some very nice trail engineering work.  One place in particular involved a sharp bend in the trail on a steep hill, and somebody had done a great job with rocks to make a very secure trail tread.  Very nice!  Trail gorillas are awesome!  A little while later, though, I came to a place where a huge tree had fallen down and left a big hole where the trail used to be.  I had to scramble around it.  Memories came back of our first ever backpacking trip in Lassen Nat'l. Park.  The same problem had happened on a trail in the Cluster Lakes area, and guys were working to fix the big hole.  They were using horses with saddlebags full of dirt to bring in enough stuff to fill the huge hole.  No sign of hardworking horses here, though–I guess eventually somebody will get around to filling in the hole. 
The PCT kept contouring around mountainsides to the road at Windigo Pass, where there was a nice water cache, left (according to a note there) by Lloyd Gust of Bend, OR.  The note had a phone number with, "Call me if the cache is running low."  Well, it WAS running pretty low, but we don't have a phone.  Bill was waiting for me, since it was Snickers time,  so we just topped up our quart bottles, had our snack, and left the PCT for the alternate route we did before, which goes via Crescent Lake to Shelter Cove.  Why do we like this alternate route?  Well, 1) It is 7 miles shorter    2) It has lots of water    3) It is low enough to be out of snow problems   4) It goes straight to Shelter Cove–no backtracking on the road   5) It actually is the original PCT route, which followed the Oregon Skyline Trail   6) It goes past several very pretty lakes.   Need any more reasons?   I think that's plenty!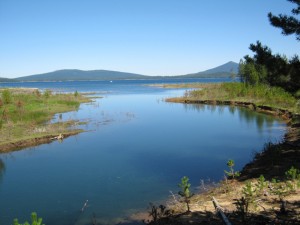 The alternate begins with a short roadwalk to the Oldenberg Lake trail, and we met a carful of guys who stopped to talk and were amazed that we'd walked all the way up from Mexico!  The Oldenberg Lake trail goes nicely up and down through Oregon Desert type forest, and it's easy going.  When we stopped for lunch, though, Bill just bonked.  He didn't just sit down and rest–he totally collapsed, and could barely manage to eat.  It took quite awhile before he felt strong enough to go on, and he was no longer on a tear, way out ahead of me, but was falling behind and having a very hard time going up any hills.  I was very worried.
The trail passes several pretty lakes, notably big and beautiful Crescent Lake, where our route led through the horse camp.  We stopped to reload on water and have some bug juice, and Bill collapsed again.  He just lay on the ground and looked very pale.  We sat there for some time before getting underway.  At our afternoon Snickers break, he could not eat, and felt very nauseated.  By now, to put it mildly, I was extremely concerned, and the trail didn't make it any easier–all uphill.  Bill was only able to plod along. 
Finally we got to Diamond View Lake, where other backpackers were swimming.  It was a very warm afternoon–oh man, did I wish I could jump in the lake, too!    By suppertime, I was starving hungry, but Bill could only drink some Emergen-C and nibble at a little piece of sandwich.  I ended up eating BOTH our sandwiches plus all the other odds 'n ends in the food bags, since we have a resupply at Shelter Cove.  I am so grateful to be feeling strong again–bring on those uphills!  But I am still skin and bones, and can't seem to get any weight back on.  And as I walked along the trail, I kept praying and praying for Bill.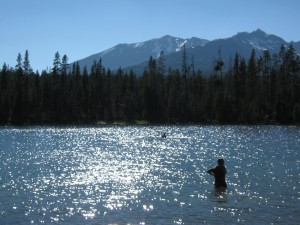 He finally said, "Don't wait for me–just go on as fast as you want, but stop at 7:00 and we'll make camp there."   As it turned out, though, the trail was all downhill, and he was able to keep up with me OK.  We were out of the Oregon desert stuff and back into regular green Oregon forest–very shady and pretty.   It got even prettier when we reached Trapper Creek with its lovely cascades and beautiful clear water.  "Maybe we can make it to Shelter Cove after all,"  I said.  "Maybe the store will still be open."  So we walked as quickly as we could, following the very nice trail that sometimes travels high above the creek and sometimes winds along right next to it.  By 6:50, we were at the railroad tracks, and headed straight for the store…which had just closed.  Oh well.
So we retreated into the woods on the other side of the railroad tracks, to set up our camp.  On the "backtrack",  I stopped and talked to  a couple of guys with four horses, who were sort of lounging around by the road.  Turned out that they'd just finished a 150 mile RIDE on the PCT, and were waiting to be picked up.  They said that they'd had a great time! 
We found a nice flat campsite with soft duff, and a view of the railroad tracks, because I was hoping very much to see some trains go by.  Bill was looking better, and said he was feeling better, too.  I hope so!   Oh, how I hope it's not giardia again!  I am so grateful to the Lord for helping us make it to Shelter Cove.
Walk with Aragorn to Minas Tirith: In green meadows crossing many streams