Sunday, August 15th, 2010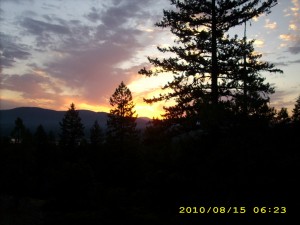 Well, we had quite a lightning show and thunder concert last night– plus rain! Wow! We haven't had rain since Campo and the San Felipe hills. There was a gorgeous orange-gold sunrise to admire.  In the morning, all we did was walk through viewless forest, but on very nice trail, "patterned" by the raindrops.  Our footprints left very clear marks!  And of course all the plants along the trail were soaking wet.  Overhead, the sun and the clouds were battling as to which would win out in the sky.  Bits of rain continued to fall.  Oh well–now we KNOW we're in Oregon! 
 Bill's math says we have to do 30 miles a day to reach Cascade Locks on time, so we were really chugging along the trail.  After we crossed Dead Indian Road, it was very obvious that the trail had been worked on.  It contoured along very nicely, and was built like a raised bed.  Blue diamonds marked the route for Nordic skiing, and made it very easy for us, too.  There were even blue arrows on the trees to show when the trail took a sudden bend!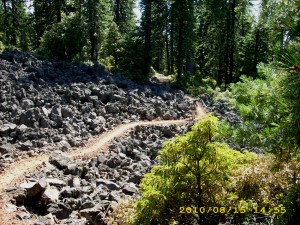 Lunchtime was wonderful– we went to the Brown Shelter  (a very cute log cabin) where there is a real old-fashioned hand pump for delicious cold spring water.  We had a fun conversation with a SOBO hiker from Washington state.  He said he wasn't doing the whole PCT, but wow, he was planning to do all of Oregon, and all of California as far as Walker Pass!   He makes all his own gear and dries all his own trail food.  
 From there, we soon were on the "lava walk" around Brown Mountain, through miles of lava interspersed with forest. The trail through the lava is very well-done and not hard to walk on.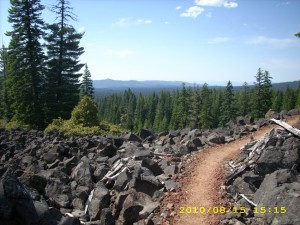 We started getting views of grey Mt. McLoughlin, and reached the Cascade Canal in time for supper.  The canal water didn't look drinkable, so we didn't take any for our platypuses, but it was great for washing our very grubby feet and socks.  Then we put in another six miles, and were well up the shoulder of Mt. McLoughlin before making camp, where the mosquitoes and crickets were both "singing." I prefer the crickets!
Walk with Aragorn to Minas Tirith:  Reach Isengard, continue on highway