Saturday, May 15th, 2010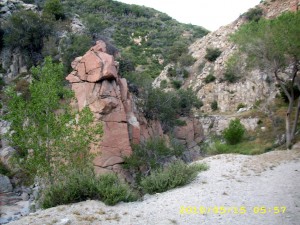 Last night, a sort of tule fog formed on the canyon bottom where we camped, so we woke up to everything soaking wet— sleeping bags, packs, etc. Yuuuck.  But we could afford to be cheery, because we were headed for McD's and then Best Western. So as soon as it was light, it took only a short but very impressive walk as the PCT twisted and turned its way through a dramatic canyon, before we reached the freeway frontage road, "hung a right" and headed for McD's.
We ordered the biggest breakfast platters they had and scarfed it all down. Another hiker, Curly, came along, too.  He, like everyone else on the trail this year, was concerned about the big Station Fire detour just ahead.
After breakfast, we strolled down the road and arrived at the  Best Western in Cajon Pass at 7:20am— no problem. The fantastic staff people there gave us a warm welcome.  They quickly got our hiker box, gave us a room, maps of all the fire detours, and even did our laundry for free because one of the coin-up machines was broken down! What a wonderful bunch of people. While the front desk lady was doing our laundry (!!!)  I wrote journal stuff and diligently studied the detour maps. 
 Then we soaked in the hot tub and enjoyed talking to other hikers.  "Chief Daddy" is Scotch and hikes in a sports kilt.  "Chuck Norris"  was a very funny guy who told us, "Hey, did you know that you can be a Triple Crowner?  All you have to do is while you're here at Cajon Pass, you eat at all three of the restaurants–McD's, Subway and Del Taco."  He grinned wickedly.  "Just say 'I'm a Triple Crowner'–they don't need to know it's NOT the AT, PCT and CDT!"
So we started on the "second leg" of our Cajon Pass Triple Crown, and  ate a huge lunch at Subway–a WHOLE footlong EACH!   In the afternoon, I loaded up our food bags so we'd be ready for the PCT again tomorrow, made a "water plan" for the detour, then settled in for a relaxed time of reading the Gideon Bible from the motel drawer (Ezra, Haggai and Zechariah–they go together, Bible history-wise, and have a lot to say about priorities in your life!)
We completed the third leg of our Triple Crown by eating at Del Taco, and when I told the Del Taco guy about the Cajon Pass Triple Crown, he cracked up laughing and told us that he wants to do the PCT someday, too!
 Now it's hiker bedtime (7:30pm)— time to hit the hay!  It's been a great day.
Walk to Rivendell: Low hills, fifth day from Weathertop