Friday, July 16th, 2010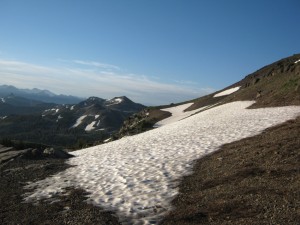 The birds started singing really early this morning–it was nice to hear them!  The PCT in the Sierras is up so high most of the time that there really aren't many birds.  It was great to hear that early morning "choir sing".  Unfortunately, last night, all night, we were subjected to the "other" choir–mosquito whines.  There were plenty of them, and we'd been too tired to set up the net tent, so I got pretty well chewed up, and didn't get much sleep.  Oh well–"On to Carson Pass!" we said as we hit the trail this morning, thinking it would be an easy cruise to breakfast at the visitor center.
Nope! The trail had other ideas. It had a lot of uphill (puff! pant!) and a number of icy snowfields to cross. Bill chopped steps for me with the ice axe.  I'd been thinking about getting shed of the ice axe at Echo Lake, but seeing so much snow, I started to be concerned about Dick's Pass up above Tahoe.  "I think I'll keep the ice axe awhile longer,"  I decided.  Some of the snowfields we encountered this morning were small enough that we could go around them, slipping and sliding on steep scree.  I'd rather slip 'n slide on scree than on hard, icy snow!  But there was compensation–wildflowers of every color, glowing in the early morning light.  Beautiful!  I tried to take photos of them, but no camera can do justice to such amazing light.
The closer you get to Carson Pass, the better the trail, and the views are wonderful. When we reached the visitor center it was 7:30  am, but the volunteers were already there.  Last time we arrived here, the volunteers practically fell over themselves offering us fresh fruit, etc.  This pair, an older husband & wife, told us that yes, they did have fruit, etc., but we would have to wait till they finished setting up everything at the center.  No problem–we settled down at the picnic table to eat our usual breakfast of granola & freezedried fruit.
Then another set of volunteers arrived.  They took one look at us and said, "PCT thruhikers!!  Howsit going?  Want some fruit?" and before we knew it, the picnic table was laden with peaches, bananas, cherries and sodas.  Yum, yum!  And just then, a bunch of other thruhikers popped out of the woods, so we were all sitting there feasting, and VERY grateful to the Carson Pass volunteers!  Everybody was on a tear to get to Echo Lake.  Trouble & Dude are determined to make it by 2 pm, and all the rest of us are saying, "Oh, whatever!  All we care is that we'll get there sometime today."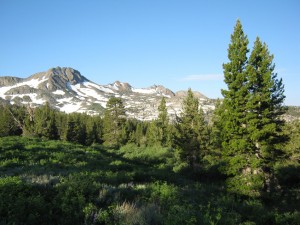 One of the volunteers had mentioned that "When you get to the top of the climb out of here, you'll get your  first view of Lake Tahoe".  And yes indeed, there it was–blue, blue Tahoe!  Beautiful! Wildflowers were everywhere, and lots of dayhikers with their very happy dogs.  The trail took us down into what I call "Ponderosa Meadows", complete with rustic ranch buildings and lots of creek crossings.  One of them was the Truckee River, but I'm not sure which one–there were so many!  There was still snow on all the mountains around us, and when the trail climbed back up again, sure enough, we were dealing with snow once more–nothing very bad, but it did slow me down.  It was a very warm day, and I was glad whenever we got to some shade.  There were big piled-up thunderclouds to the east, and after awhile, we began to hear the sound of thunder, but didn't see any lightning.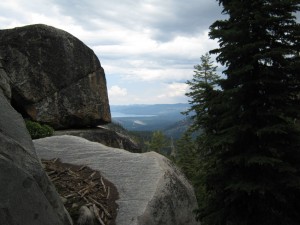 My sore right ankle was feeling much better, which was very encouraging!.  Eventually we began "the big downhill" to Echo Sno-Park. I remembered this from 2005 as horribly rough and rocky– and it still is. For me, that means very slow going. Sigh. But we made it, and did enjoy the views of Lake Tahoe on the way down. Even though the trail is very rocky, it  is very pretty and green.  Finally we were back "on the flat", walking along near the snow park, and I was just commenting to Bill, "Well, we're almost to Highway 50, but it's still a ways to Echo Lake," when oh no!  I twisted my sore ankle AGAIN on a little rock in the otherwise smooth trail.  It really hurt!  From that point on, I was limping badly and yelping  when the ankle bent even a little bit.  I was really bummed about it.  At the parking lot near the highway, we saw Granite and Terrapin trying to "yogi" a ride from dayhikers.  We told them it was often easier to get a ride down to South Lake Tahoe from Echo Lake Resort, and they said  they might do that if they had no luck at the snow park.  On we went, me limping badly, as the PCT spent quite some time parallelling Highway 50.  Once we'd crossed the highway, it was another 1.5 miles to Echo Lake, and it was obvious that Bill was itching to get there.  So I told him, "Go for it–I'll get there when I can," and he soon disappeared into the woods. 
By now it was a very hot afternoon, and I was sweaty, hurting and pretty miserable.  What if the ankle turned out to be serious enough to force me to stop hiking?  Since I was all by myself, I did sniffle a bit and did ask God to please help me be brave and please help the ankle to recover.  By the time I got to Echo Lake, I was more or less a wreck.  I saw Bill–he'd picked up our resupply box–but all I could think was "Cold drinks!"  I mumbled something at Bill about "See you in a minute" and headed straight into the store to buy a pink grapefruit juice and an orange juice.  Then I sort of staggered back outside and collapsed on the picnic bench where a number of hikers were gathered.  I did nothing for awhile but steadily sip the cold juice.  Oh man, did it taste good!!
Finally I felt recovered enough to chat with the other hikers.  Most of them were busy "spiffing" to make themselves presentable enough to hitch rides into town.  All the other hikers are much younger than we are–they were full of vim and vigor, and talking excitedly about the buffets and casinos of South Lake Tahoe.  Bill and I went down there in 2005, and though it was nice to rest in a motel and eat at the buffets, we had agreed it wasn't worth the bother of getting there and back.  The two Israeli girls, Noga and Shani, hung around for a long time, talking to people.  When they decided to get an ice cream shake, they had a hard time deciding what flavor to choose out of the HUGE menu of possibilities.  They finally went for fresh raspberry, and said it was really good! 
Bill and I got two huge, fantastic sandwiches, and went to sit and eat in the shade at the side of the store.  Leaning on the wall, we ate and discussed what to do next.  The post office was closed, and would not reopen till 11 am tomorrow. We had bear cans to mail home, but Bill did not want to wait around that long. With my very sore ankle, I DID want to wait.  In the end, though, I told Bill I'd talk to the store people and see if there was a way to mail the bear cans today.  It took some doing, but finally I was able to talk to the store manager, who also runs the post office, and she agreed to take the bear cans!  So we loaded the cans with our Microspikes and Yak Trax, and waved them GOODBYE!  Two old ladies were sitting and eating ice cream by the post office window, and I had to explain to them why we were so happy to get rid of those strange black cans!
I made one last try at persuading Bill to camp at Echo Lake (I was thinking about how nice it would be to just camp now and get a good rest before starting early in the morning, but he was very determined to hike on.  So I sat in the shade (it was still hot) sorting food into the food bags.  Then I got one more cold juice drink before we hit the trail again at 6 pm.  I was worried about where on earth we could camp.  There are cabins all along the lake for quite a distance.  But when we started hiking, I was very pleased to discover that my sore ankle felt MUCH better.  I guess the 3+ hours of rest had really helped!  
The walk around Echo Lake is so pretty, and it was especially beautiful in the evening light.  We made it almost all the way past the lake before the sun went down, and at that point, we snuck off the trail into a flat place surrounded by bushes, to set up a stealth camp.  We could hear the boats on the lake and the dogs in the cabins barking, but nobody knew where we were, except the mosquitoes!   We set up the net tent so we could sleep in peace.  I was desperately tired, and the thought of another night with mosquitoes chewing on me was just too much.  Hooray for the net tent!  And there was a beautiful sunset.  I lay in my sleeping bag and listened to the voices of evening hikers going by on the trail, and thought about how great it was that tomorrow, I'll be able to carry a much lighter pack. 
Walk to Rauros:  High wolds of the Brown Lands, Gollum grows more daring