Tuesday, August 10th, 2010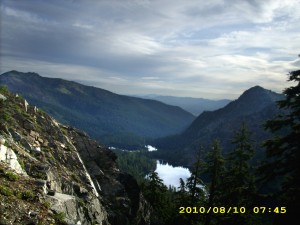 We tiptoed around, being as quiet as we could while packing up this morning, so we wouldn't bother Blue Butterfly.  The sky was full of clouds– all kinds of clouds– all very pretty but a bit worrisome to hikers. "Will it rain? Or will it just make today cooler?" (Turned out in the end that the lovely clouds made a great, comfortable hiking day!)   The sunrise was very red,  and lit up Mt. Shasta, which is now very definitely BEHIND us.  
It didn't take us long to reach the PCT alternate route, which was developed because the "real" PCT crosses the north face of a mountain, and was snowbound for so much of the year that horses could not get through.   We chose the alternate, and stopped for breakfast near the top of the climb.  Far below us was a little encampment of other thruhikers who were just starting to get up.  All around us were mountains in all sorts of shapes–pyramids, blocks, and just plain "pointy."  As we descended down a brief north face, we did have the "fun" of getting around a nice big snowfield.   I think that when trail routes are being planned, north sides of things should be avoided as much as possible.  In the Sierras, this was true as well.  South sides of mountains and passes were often clear, while north sides were deep in snow.  It was pretty frustrating to be struggling through snow while looking across at nice plain dirt!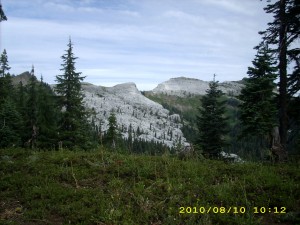 The rest of the morning I felt as if we were wading through wildflowers– they were waist high and gorgeous.  We contoured around the bases of mountains of marble and peered into marble "wells" and caves. The old ranger cabin midway had a brand new, shiny stovepipe. Nice!  The trail contours high above some very pretty lakes, but only comes close to one of them, which is called Paradise Lake.  Up behind it is a dramatic rock formation called King's Castle.  I understand now why rock climbers like to come here to the Marble Mountains! 
We met some SOBO ladies–the same ladies we'd met hiking SOBO north of Silverwood Lake!  One of them was hiking with her little dog which was carrying its own cute little pack.  Awwwww!  They said they'd met Babysteps and Flashback, who told them "White Beard is coming!"  so they were expecting us.  Turns out that we are becoming a bit of a legend on the PCT this year, a part of the "elite" group of hikers who have not flipped or flopped, but went straight through, AND we are in the "Geezer Three" of the oldest thruhikers on the trail.
The trail makes a pretty steady climb up to around 7,000 feet, so we were very glad to finally reach the long traverse–miles and miles of easy going across green meadows and through forests.  We did have to be careful of our water, though.  Rain that falls here in the Marbles just percolates right into the ground.  There are very few springs or creeks.
Finally came the long down-hill to Grider Creek, and we began to "fly"– it was nice easy trail, very green and shady.  At a road crossing we caught up with Croatian, Not a Chance and Tangent again.  They were busy eating, so we joined them!  I have been eating Nutella by the spoonful every chance I get (hey, it's 100 calories per tablespoon!) and it is really helping.  I was able to chug right on up the climb this morning, and the downhill to Grider has been actually fun!  Croatian, etc. were determined to camp tonight at the campground, even if it meant hiking by headlamp. 
Bill and I were not so ambitious–we figured on making it to the first bridge across Grider Creek before stopping for the day.  But bummer–there were no flat places by the bridge!  The guidebook said there were campsites at the next bridge, 1.3 miles away, so we pushed on.  Well, the guidebook was wrong.  There were no campsites or flat ground of any kind.  By this time, we were both really tired, and the sun was going down.  So I went into what I call "Hike while looking for a campsite" mode, and it worked!  Up above the trail, to the left, I spotted what might, just maybe, be a little "shelf" of land.  I told Bill to wait while I had a look, and hooray!  There was just enough room for a cowboy camp, on ground covered with soft, cushy leaves!
When I figured out our mileage, I cheered.  We did just a bit over 30 miles!  And here we are with a nice camp in a beautiful forest, with the creek rushing along nearby.  And I am feeling so much better.  Being able to rest in Etna and being blessed by the love and prayers of other believers really was a help…and Nutella rocks!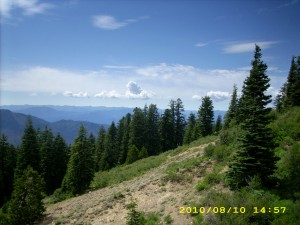 Walk with Aragorn to Isengard: Enter meadows crossed with many streams of the Isen