Sunday, July 25th, 2010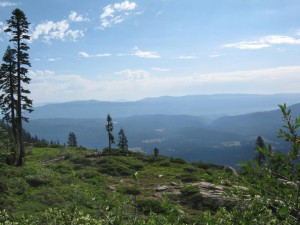 The Williams family (Nancy & Terry & their nephew who was visiting) were up at 5am to be sure all of us "earlybird hikers" got at least some coffee, cereal and toast  before we hit the trail at 5:45. They are awesome folks! And the trail was awesome, too, pretty much all day, and that was good, because it's only 24 miles to Belden, and our next resupply.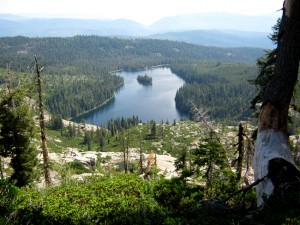 Back on the PCT, we did the nice comfortable climb up to Buck Summit, stopping for a second breakfast along the way.  There were no blowdowns on the trail–hooray!  I wouldn't have wanted to hike this section a couple of months ago, though–it was obvious that there had been a lot of trees down, but the trail gorillas had recently (you could tell by the freshlooking woodchips, sawdust and cut logs) cleared them all out of the way, AND fixed the trail tread.  Thankyou, trail gorillas!!
Another great thing about the trail today was that it was so well-marked.  There were silver diamonds on the trees, main points labelled with signs (so you know where you are) and excellent signs at junctions.well-maintained trail tread and no big uphills. We were in forest a lot, but through the treetrunks we could see big canyons, huge dropoffs and dramatic cliffs. The treetrunks in this area are "painted" with fluorescent green lichen down to "snow level", which looks like it's about 10 or 12 feet deep.  Whew!  That's a lot of snow!  Glad we didn't have to deal with any of it! 
Clouds were building up in the east, and we could see rain falling in the distance, but it was the kind that doesn't even hit the ground.  Around noon there were a few rumbles of thunder.  It was a very warm afternoon, and I was thinking "A bit of a shower would sure feel good, but I'll take a pass on the lightning & thunder!"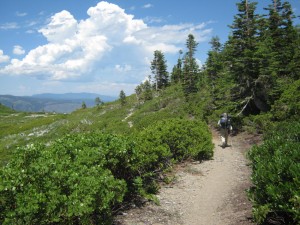 By early afternoon we were out in the clear with a 360 degree view above timberline! Wow! We could see way down into the Feather River canyon, and we headed into the zillion switchbacks that take you down to Belden. I took a Vicodin and was able to sail down with no pain, only by the time we reached the bottom, my "downhilling muscles" were pretty fried.  What an amazing trail experience that is, though!  You start in what feels and looks like a high alpine zone with dramatic rocks, awesome views, scrubby trees and groundhugging plants, and by the time you're down, it's like you are in the green jungle, with (sigh) poison oak hanging over the trail.   The switchbacks at the top of the descent are pretty steep, but the lower you go, the longer and gentler they are.  At one point, the trail goes along a cliff, and it almost looks like you could jump off the trail right into the river, except that wouldn't be a very good idea–it's a LONG way down!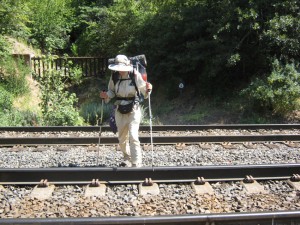 Finally we crossed the railroad tracks, and on our VERY tired feet, came walking into Belden Town resort.  Not bad, though–it had taken us from 6 am till 3:30 pm to do 24 miles!  We revived with lots of lemonade (3 tall glasses each!) and burgers at the much improved restaurant.  A kind motorcyclist let us use his cell phone to call the Braatens, and Mrs. B. said she'd come get us at 4:30.   Other hikers began drifting in; first to arrive was Noga, from Israel.  She looked exhausted, and collapsed on a bench in the shade to wait for her friends. 
Mrs. B picked us up, took us to Little Haven, and showed us the ropes…there's a shower, but no laundry (other than rinsing socks) and no food (except for a bit in the morning, and whatever might be in the refrigerator.)  But when we went to the pile of resupply boxes to get ours, oh no!  Our box was not there!  We asked Mrs. B about it, and she said, "Oh, it's at the post office.  If you'd called me a couple of days ago, I would have brought it here to the house."  Megabummer!   The reason we sent it to Little Haven was to AVOID having to wait for the post office to be open.  And how in the world were we supposed to know to call her?  If we'd known, we could have called from Honker Pass.  We were very disappointed.  Our plan was to leave early tomorrow morning, but now we have to wait till at least 9 am, and then I still have to sort the food and put it in the packs.
So Bill and I claimed a couple of beds, I washed our socks and hung them out to dry on the deck, and then I scrounged in the fridge for dinner ideas.  I came up with some salami, yellow summer squash, and cheese, so I made a sort of stirfry concoction out of it.  Bill and I were the first hikers to arrive at Little Haven today, but by 6:30 there were a lot more.  The deck was full of hikers sorting their resupply boxes and trading stuff.  I actually got a couple of items that other hikers decided they didn't want!  And since the river was just across the road, a group of young guys decided to go swimming.  We thought about going, too, but again, we were just too exhausted.  Bill spent most of his time just collapsed on the bed.
It's a very warm night, and even with the windows open, almost too sultry to sleep well.  But I love listening to the sound of trains going by on the other side of the river!  I did pray, though, that all will go well with getting our box tomorrow.  Bill and I agreed that when we do the PCT again, we will skip Little Haven and send our resupply box to Belden Town Resort. That way, we don't have to deal with the post office at all! 

Walk to Rauros: The Argonath