Thursday, July 22nd, 2010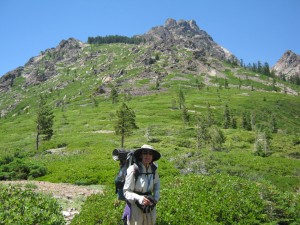 It was pretty dark in the forest in a creek canyon at 5:15 this morning– no problem– we were headed for breakfast in Sierra City! Oh yes! We passed Mr. Mountain Goat (just getting up) and reached the shortcut turnoff for town. My only disappointment as we headed briskly along on such a beautiful morning was that the back of my right hip is still really hurting anytime I have to walk downhill.  I finally "solved" it temporarily by walking as if  I were balancing something on my head.  I sure wish I knew what the problem is.  But the thought of "Hot breakfast!  Sierra City!" was enough to erase most any concern!
The walk into town is fun–through the campground (where a few people were just beginning to emerge sleepily from their tents) and then the interesting houses (some are log cabins), each with snowmobiles parked outside and covered with tarps for the summer.  Once at the highway, we headed for the Red Moose. Hmm– in the front window was a big "Sorry, we're CLOSED" sign– but stuck on the window just above it was a little note that said "PCT People– knock or holler– we're open for YOU!" And when we stuck our heads in the door, the place was full of hikers eating breakfast!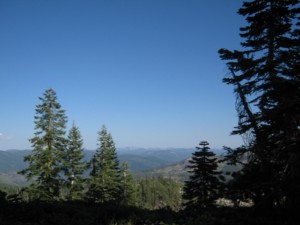 There was a menu, but most hikers were just saying, "give me one of everything!" We ate and ate and enjoyed talking to everybody.  The Red Moose's new owners are awesome!  They let hikers camp in the backyard, take showers, do laundry, use their cell phone, and sort resupply boxes, all for free.  Wow!  More and more hikers kept arriving from the trail, and as each came in the door, all the rest of us would cheer and welcome them.  It was totally fun!  Eventually I went and got our  PO box, did a shopping run to the store and finally we headed out, walking the shoulder of Highway 49, back to the trail.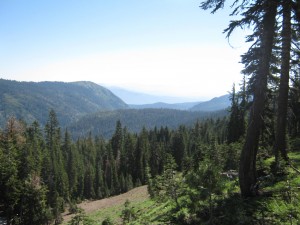 First thing, of course, is the big climb (4.5 hours) up and around the Sierra Buttes, on a hot day.  The first few miles are nice shady switchbacks, but eventually, the trail is out in the sun and it's pretty rocky.  A trail crew was out doing some badly needed brushing work, and we thanked them heartily!  There was a moment of excitement as two jets flew by BELOW us, twisting and weaving their way along the canyon at treetop level. 
Finally we reached the top of the climb, and began meeting dayhikers, who were headed to and from Sierra Buttes.  Obviously they didn't come in the way we did!  They park their cars at various other nearby access trailheads.  The north side of the Buttes still has snow on it, and there was snow by the trail, but none ON the trail (good!).  Once you are at the top, the route spends awhile as a "crest walk" looking down on all the lakes shimmering blue down below. At one point, we reached a trailhead parking area and it wasn't clear where to go next.  We were standing around studying our maps, when some guys came along and set us straight–"Just follow the road to the Packer Lake turnoff." 
So we did, and enjoyed the beautiful views as we walked along.  The mosquitoes were pretty bad,though.  As long as we keep moving we're fine, but the minute we stop, we get swarmed.  The trail went up and down, and at every "up", I was scanning the horizon for a sight of Mt. Lassen–no luck on that yet!  The wildflowers along the trail were very nice, but not as numerous as before.  This is rugged, rocky country, crisscrossed by many dirt roads, with dramatic volcanic rock formations along the crest of the ridges.  We're back to having to be careful about water–the trail stays up high above the many lakes; creeks and springs on the trail are few.  So though we are no longer having to carry heavy bear cans, ice axes, crampons, etc., we do have to carry a pretty heavy water load.
We found what we thought would be a really nice campsite, flat and breezy on top of a ridge.  The sunset was beautiful–all red and gold.  Bill and I were doing our share of oohing and aahing as we watched it, and we weren't the only ones–a car came by on a dirt road we didn't even know was there, and a bunch of people got out to watch the sunset, too. 
But after the sun went down, the breeze stopped and the mosquitoes were back.  Bummer.  We are cowboy camped, and the thought of leaving our sleeping bags to put up the net tent (probably getting well chewed up in the process) was just too much.  So we just squiggled down into our bags and draped headnets over us.  I spent some time asking God for wisdom about how to fix my hip pain problem.  Every time I've asked before, He always has answered, and I am trusting that will be the case this time, too.   
Walk to Rauros: In ruins of weathered stone near the Emyn Muil